If you want to keep your hair shiny then you will have to put in a lot of hard work. There is no denying the fact that we all love our hair and wouldn't mind putting in some special effort to ensure it keeps looking shiny. There are many home remedies for shiny hair available nowadays and you will not have to look too far to find some really good ones.
If you're sick and tired of using beauty products in the hopes that they will help you get shiny hair then perhaps you should try some home remedies for shiny hair.
There are a lot of shampoos available in the market but none of them will work well as home remedies do. So let's take a look at a few of the best methods to restore shiny hair:
Home Remedies for Shiny Hair
Beer and Tea Rinse – Natural Treatment for shiny Hair
The first option as homemade remedies for shiny hair involves a beer and tea rinse. This is among the oldest ways in which you can make your hair shine.
You can simply boil some tea leaves with some water and let it cool for a while, and then add an equal amount of beer into it. This liquid can be used to rinse your hair for the best results.
If you don't want to waste good beer you could use flat beer as well. This tends to offer better results too.
Lemon Juice – Remedy to Cure Shiny Hair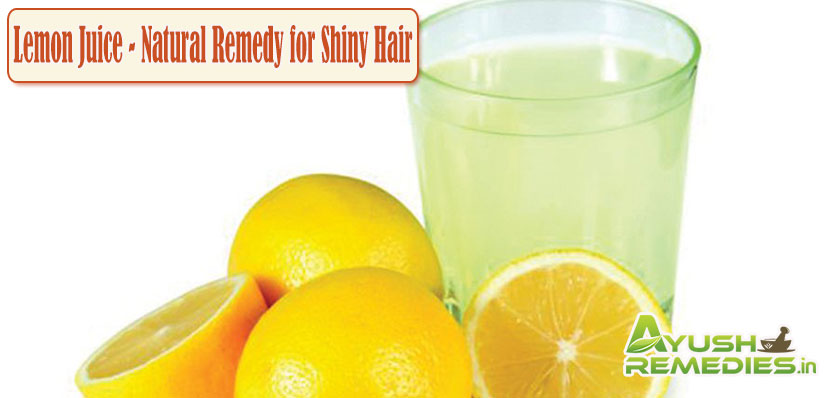 The second option as far as home remedies for shiny hair is concerned involves lemon juice. Just simply combine it with water and use it to rinse your hair.
This will give it a bouncy and shiny look. This final rinse can also be done with vinegar instead of lemon juice for the same results.
Henna – Herbal Remedy for Shiny Hair
Henna is another natural conditioner that cannot be forgotten when it comes to home remedies for shiny hair. Henna has been known as a natural conditioner for centuries and there is no point in doubting it now.
It will not only make your hair shiny but will also help it regain that flair and bounce it once had.
Sodium Bicarbonate – Natural Treatment for Hair Health
Including sodium bicarbonate in your shampoo may not offer sound like a good idea but it does offer excellent results. It works as stupendous natural remedies to get shiny hair.
It can not only remove grease and dirt from your hair but can also give it a nice and shiny look. Isn't that what you're going for anyway?
Honey – Home Remedy to Cure Shiny Hair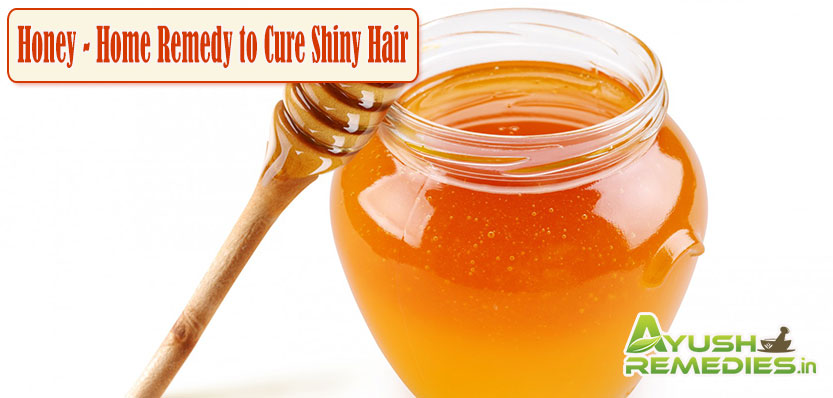 Honey is an excellent option as far as home remedies for shiny hair are concerned. You will have to moisturize your scalp with this though. Simply applying it on your hair is not going to work.
Mix some honey with a little water to make a honey lotion that you can apply on your hair whenever you want.
For more on hair care, check out:
Home Remedies for Black Hair Care
Effective Home Remedies for Damaged Hair
Apple Cider Vinegar – Remedy to Protect Shiny Hair
No list of home remedies for shiny hair would be completed without mentioning apple cider vinegar. This excellent treatment can really help increase the shine of your hair.
Don't use this mixture more than twice a month though as it may start negatively affecting your hair then. That being said, you need to use it the correct way as well for the best results.
You should first rinse your hair in warm water and then shampoo it. Then take a mixture of apple cider vinegar and water and mix it into your hair for a little while. And lastly, you need to rinse it off using cold water and nothing else.
Espresso – Herbal Remedy for Shiny Hair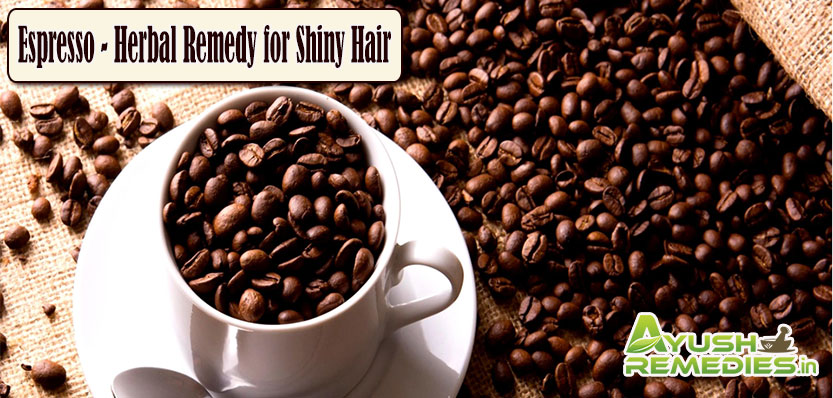 Another effective choice among herbal remedies for shiny hair is espresso. You can brew a little of it and pour it onto your hair. Let it stay for at least half an hour before rinsing it out. This will really help your hair shine like never before.
Egg Shampoo – Remedy to Getting Rid of Dandruff
Egg shampoo is the next option as far as home remedies for shiny hair are concerned. You will need an egg, some lemon juice, olive oil, castile soap, and water.
Mix all of these things together and make a shampoo that you can apply to your hair. This will certainly help restore its shine.
Instead of using regular shampoo you could consider massaging baking soda into your scalp for a change. This will not only help you get rid of dead skin from your scalp but will also remove all your dandruff problems.
This may make your hair a little dry at first, but in the long run, it will do nothing but help it shine. Hence, following this procedure as natural remedies to make your hair shiny would prove highly beneficial.
Mayonnaise – Remedy to Protect Shiny Hair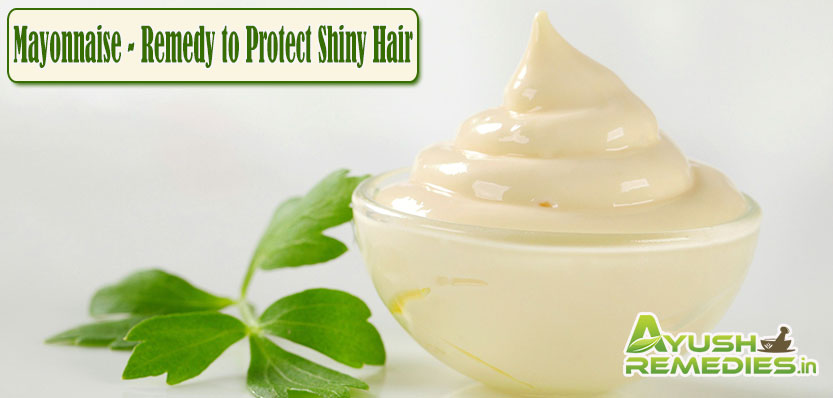 Believe it or not, mayonnaise is counted as another very effective home remedies for shiny hair. This can also act as a moisturizer and give you that perfect hair you always dreamed of.
All you have to do is put the mayonnaise on your head and let it rest for half an hour or so. Once you do that, have a shower and wash off the mayonnaise. Simple isn't it?
For more on hair care, check out:
Best Home Remedies for Oily Hair
Best Home Remedies for Hair Growth and Thickness
You May Like…