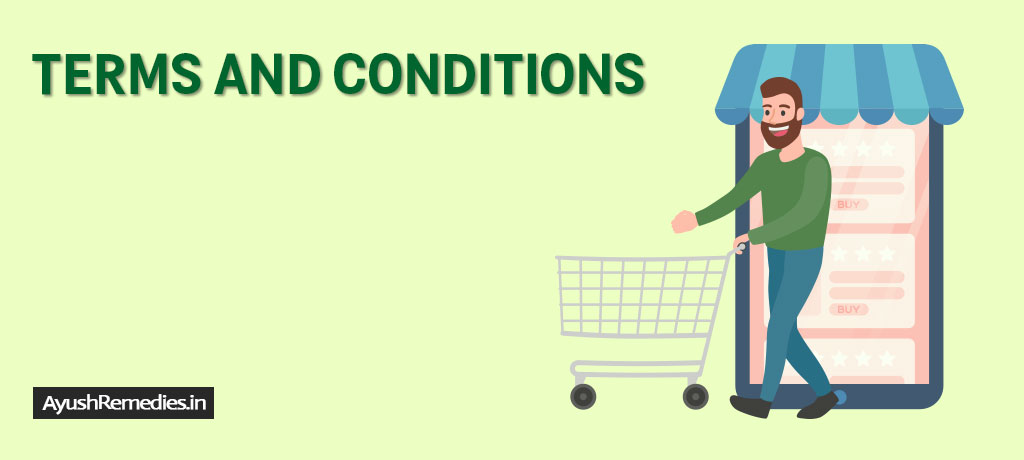 The Terms and Conditions enclosed herein form an agreement between you and Ayush Remedies. This includes your browsing, shopping and utilization of any related services or offers given to you.
By buying our herbal products or using our website confirms your bonding and acceptation of these Terms. You agree that you are at least 18 years of age and are eligible for entering, performing and adhering to these Terms.
For those who are below this age, must take supervision from their parents or guardians, whether they are of appropriate age to use our services or not.
These Terms legally bind you and the Company regarding the use of the website that includes visiting here, shopping, sharing, commenting or any other services that offered to you by us.
You hereby agree that you are at least or above 18 years of age, who is capable to enter, perform and adhere to these Terms once you register to this website.
Those who are under this age must take guidance from their parents and/or legal guardians. Under any reverse circumstances, the parents or guardians would be charged as responsible for any wrong recommendation is given by them to you.
You agree to register prior to uploading any content, commenting, or any other use of services belonging to this site that asks you to fill up the basic details of you including name, age, email address, residential address, and contact number.
You ought to go through these Terms at regular intervals since it is subjected to change or alter at any time without notification.
Your use of these Terms implies that you agree to all of these, whether or not you go through them. It also counts your agreement related to Privacy Policy, Return Policy, Shipping Policy, and all the other policies after registering to it.
Terms and conditions for all purchases
We will accept your order by issuing confirmatory e-mail and/or SMS of the herbal products that are being specified in your order.
Our acceptance of each order is expressly subjected to and accustomed to your consent to these terms and conditions of product sale. No other terms and conditions will be relevant.
Electronic mail and phone communication
When you visit our website or send emails to us, you are electronically communicating to us which means you allow yourself to receive communication from us in this mode.
We will connect with you by sending you an email or by uploading some notices on our website. You admit that all types of agreements, disclosures, notices, and other modes of communication that we provide you electronically satisfy the legal requirement that such communication is always in writing.
Ayush Remedies preserves the authority to send transactional emails and/or SMSs regarding any order placed by you and you agree that the same will not be kept as spam.
By giving us your mobile number while registering with us, you agree to receive calls or SMSs or both from Ayush Remedies, no matter you have done the registration on Do Not Disturb (DND) with your telecom service provider.
You agree to receive calls or messages from Ayush Remedies and its merchants, agents, courier partners seeking clarification or information concerning your order and any other related info as and when needed and disown any accountability of Ayush Remedies in this regard.
Shipping and Handling
The expected time for the delivery shall be counted from the date of placing that order. The order processing starts from the day of the payment receipt confirmed.
For COD (cash on delivery) orders, the expected time for the delivery shall be counted from the date of placing the order. The time duration is an approximation in which the delivery is likely to be received.
The duration that we provide for the products to be delivered to your house is estimated ones only and are subjected to change as per the availability of the products to us and the number of days the respective shipment takes.
Ayush Remedies shall not be liable for any delay or non-delivery of purchased items due to circumstances that such events might occur beyond its reasonable control, such as flood, fire, strike, wars, acts of God, etc.
We always take care while packing any product. So, in case you are unsatisfied with the quality of the packing the respective shipment would be liable for the same and all the claims would be charged to them.
We will provide you their contact details on special appeal and the rest could be carried accordingly. If a reverse shipment cannot be prearranged by us due to the absence of our logistic partners, then in such a case you would be requested to send the products through any other available courier services.
Returned products by you
We will take the returns of the products, provided that such return is for damaged products during transit, defective products, products wrongly delivered, wrong product, inadequate package, etc. and are subjected to the condition that we are conversant about such discrepancies within 7 days from the date of the product order and provided that those products are returned to us in their original form. Kindly see our return policy for more info.
All prices are in Indian Rupees (INR)
Every product pricing is in Indian Rupees (INR) and so the money transaction shall be in that mode only. The payment needs to be done in full else the incomplete transaction shall lead to the prohibition of the product delivery.
Ayush Remedies shall not be held liable for the delayed services, non-delivery or unsatisfactory performance in case if the items are out of stock or unavailable at a given moment.
Any request for canceling the orders (in case of advance payment) that are once placed on the site, shall not be entertained.
If the non-delivery occurs as a result of a mistake being done by you (for example, the wrong address) then, in that case, the extra costs for the re-delivery shall be charged to you.
At no cost shall Ayush Remedies, its officials, directors, representatives, employees, etc. are liable for any damages with respect to the products sold through various platforms.
If it occurs then you will have to take this up with the respective courier services whose contact details would be shared with you on special request.
You agree to not make any bulk purchases to get involved in some reseller activities. If Ayush Remedies detects any such acts then it has all the rights to cancel the current as well as future orders and block your account.
You agree to provide authentic and correct information only. Ayush Remedies reserves the right to validate your information and other details provided by you at any point in time.
Upon confirmation of any incorrect information (wholly or partly), you shall be debarred from using such Services provided by us without prior intimation whatsoever.
Ayush Remedies will not be held responsible for any loss or damage suffered by users while using the services of this site including delays, missed deliveries, non-deliveries, or service interruptions.
This also applies to any damages caused by any failure of conduct, error, deletion, omission, interruption, delay in operation or transmission, defect, communication line breakdown, computer virus, theft or destruction or unlawful access to, alteration of, or use of record, whether for violation of contract, twisting behavior, carelessness, or under any other cause of action.
Cancellation on the user's appeal may not be allowed, but is subjected to the specific terms and conditions, is applicable to the type of product(s) or services purchased or demanded.
All orders or suborders being canceled will be refunded according to the payment mode selected by the customer except in case of COD, where refund shall be carried via Cheque.
Delivery of orders is address specific not person or time-specific.
Ayush Remedies keeps all the right to deny any order placed which is unavailable, out of stock or storage or in a short supply.
Reviews, comments and other contents
Users of our website are free to post reviews, comments, and other contents as long as the contents are not illegitimate, obscene, offensive, intimidating, insulting, invasive of privacy, violate of intellectual property rights, or injurious to third parties otherwise, or unacceptable and does not consist of software viruses, political movement, commercial petition, chain letters, bulk mails, or any other form of "spam".
If a user uses an incorrect email address, portrays any other person or entity, or otherwise deceives in some way, Ayush Remedies reserves every right to remove, deny, delete, alter or edit any content that breaches these Conditions of use and, or ceases your consent to access or use this website.
Products Description and Pricing
Before ordering any product you are advised to go through the product description cautiously. By placing an order you agree to be obligated by the conditions of sales that are included in the product's description.
Ayush Remedies and/or its vendor or seller will always try to be as precise as possible while giving product descriptions and pricing. However, it does not justify that descriptions or other content or prices related to the products or other info and content of this website are perfect, absolute, reliable, current, or error-free.
Charges displayed on the website include the cost of the product only. The service charge for payment, facilitation fees, and shipping costs will be levied extra as applicable. Similarly, for any suitable refunds, the full cost is compensated, which has been charged.
All prices and accessibility of products are subjected to change without earlier notice at the sole diplomacy of Ayush Remedies.
Disclaimer of Warranties or Limitation of Liability
YOU ACCEPT THAT THROUGH THIS WEBSITE, AYUSH REMEDIES SIMPLY ACTS AS A CATALYST, IN ORDER TO ASSIST HIGHEST QUALITY GOODS AND SERVICES TO THE USERS.
AYUSH REMEDIES DOES NOT GUARANTEE THAT THE FUNCTIONS CONTAINING IN THIS WEBSITE WILL BE HURDLE-FREE OR WITHOUT ANY ERROR, THAT FAULTS WILL BE REVISED OR THAT THIS WEBSITE OR THE SERVERS THAT MAKE IT OBTAINABLE ARE FREE OF ANY VIRUSES OR OTHER DESTRUCTIVE COMPONENTS, BUT SHALL VENTURE TO ASSURE USER'S FULL SATISFACTION.
AYUSH REMEDIES SHALL NOT BE HELD LIABLE FOR ANY ALLEGES AGAINST LACK OR INSUFFICIENCY OF SERVICES; NON-CONTENTMENT OR DISAPPOINTING CONTENTMENT OF PRODUCTS AND SERVICES PURCHASED BY THE USER FROM THE THIRD PARTY.
AT NO COST SHALL AYUSH REMEDIES BE RESPONSIBLE FOR ANY DIRECT, INDIRECT, DISCIPLINARY, INCIDENTAL, SPECIFIC, SUBSTANTIAL DAMAGES OR ANY OTHER LOSSES RESULTING FROM: (A) THE USAGE OR THE INCAPABILITY TO USE THE PRODUCTS AND/OR SERVICES; (B) THE COST OF OBTAINMENT OF ALTERNATIVE PRODUCTS AND/OR SERVICES; (C) UNAPPROVED ACCESS TO OR AMENDMENT OF THE USER'S TRANSFER OR DATA; (D) ANY OTHER MATTER REGARDING THE SERVICES INCLUDING, WITHOUT LIMIT, DAMAGE FOR LOSS OF USAGE, DATA OR GAINS, EMERGING OUT OF OR IN ANY WAY ASSOCIATED WITH THE USAGE OR ACCOMPLISHMENT OF THE WEBSITE.
AYUSH REMEDIES SHALL NOT BE HELD ACCOUNTABLE FOR NON-FEASIBILITY OF THE WEBSITE DURING TIMELY MAINTENANCE PROCESSES OR ANY UNINTENDED SUSPENSION OF RETRIEVAL OR ACCESS TO THE WEBSITE THAT MAY TAKE PLACE DUE TO TECHNOLOGICAL REASONS OR FOR ANY CAUSE BEYOND AYUSH REMEDIES' CONTROL.
YOU UNDERSTAND AND AGREE THAT ANY DATA OR MATERIAL DOWNLOADED OR OBTAINED THROUGH THIS WEBSITE IS DONE TOTALLY AT THEIR OWN CAREFULNESS AND RISK AND THEY WILL BE COMPLETELY RESPONSIBLE FOR ANY LOSS OR DAMAGE TO THEIR PC, LAPTOPS, MOBILE PHONE, OR ANY OTHER COMPUTER SYSTEMS THAT RESULTS FROM THE DOWNLOAD OF SUCH MATERIALS AND/OR DATA.
THE CLAUSE SHALL SURVIVE THE TERMINATION OR EXPIRY OF THIS AGREEMENT.
Prohibited Activities
You agree that you shall not upload, host, display, publish, modify, transmit, update or share any info on the Site, that:
1. Belongs to another individual and to which you don't have any permission to share.
2. Is grossly injurious, distressing, irreligious, insulting, obscene, pornographic, pedophilic, libelous, enveloping of another's privacy, terrible, or racially, culturally objectionable, disapproving, relating or bearing money laundering or gambling, or unlawful in some way.
3. Harms minors in any way.
4. Contravenes any patented, trademarked, copyrighted or other proprietary rights.
5. Violates any law and order for the time being in force.
6. Misinforms the addressee about the source of such messages or forwards any info which is disgustingly offensive or threatening in nature.
7. Impersonates another person.
8. It contains software viruses or any other computer program, code, files designed to hamper, demolish or limit the performance of any computer resource.
9. Threatens the unity, defense, security, integrity, or sovereignty of India, friendly terms with foreign countries, or public order or causes confrontation to the commission of any cognizable offense or thwarts an investigation of any wrongdoing or is insulting any other nation.
Any Content and/or comment is uploaded by you, shall be subjected to appropriate Indian laws and may be hindered, or subjected to investigation under suitable laws.
In addition, if you are found to be in non-obedience with the rules and regulations, the Company shall have the full right to immediately terminate or block your access and use of this website and it can remove any non-obedient Content and/or comment(s), uploaded by you and furthermore have the right to take alternative to such remedies as would be obtainable to the Company under the valid laws.
Termination or Suspension
Ayush Remedies reserves its right to restrain, deny service, delay, forbid access to the website, finish your created account and the services at any time, in its sole concern with or without cause or reason, and with or without any early notification for any contravention of the Terms of use.
Upon such expiration or suspension, your authority to use this website will immediately close. Once your registration or the services are closed, canceled or delayed, any information that you have stored on the website may not be accessed later.
You agree that Ayush Remedies may under certain events and without previous notice, instantly terminate your user ID and access or retrieval to the website or services.
Causes for expiry may involve, but shall not be restricted to requests by imposition or government bureau, possible legal responsibilities, infringement of the intellectual property rights of any other party, anything acting unpredictably with the letter of the temperament of our policies or tormenting our employees, etc.