Dandruff is quite a common hair problem in today's world. In fact, more than half of the population of the world is suffering from this issue. It affects the skin on your head and also results in the flaking of your scalp. The flakes that are formed as a result of this appears like snowflakes and they fall off on their own all over your face and your shoulders.
This is a problem that leaves a lot of people very embarrassed in life. They don't know how to react when people ask them about this issue as well.
They feel like the best way to deal with the problem is to avoid it altogether. To do this, they avoid wearing any dark clothes since they make dandruff more prominent.
But what they don't know is that there are many effective home remedies for dandruff that they could try out instead.
Natural Home Remedies for Dandruff
The first thing that they should understand is what causes dandruff. The main cause of dandruff is fungal and bacterial attacks. It is the fungus known as Malassezia furfur which causes dandruff as well as excessive flaking and scaling of the scalp.
Some of the other facts that may cause dandruff to include yeast infections, malnutrition, use of alkaline shampoos, calcium or zinc deficiencies, etc.
But with home remedies for dandruff on your side, you will not have to worry about any of these problems.
Dandruff can result in some intense itching and also spreads from one person to another in the form of direct contact or even through indirect contact via garments, towels, combs, etc.
There are two types of dandruff for you to fear – dry dandruff and waxy dandruff. As far as dry dandruff is concerned, it is basically loose flakes that can very easily be dusted off.
For more on hair care, check out:
Best Home Remedies for Shiny Hair
Home Remedies for Black Hair Care
It usually gets trapped in the upper layers of your hair. Waxy dandruff, on the other hand, is something that mingles in with your sebum and sticks to your scalp.
This leads to some thick scattered patches of dandruff. Luckily for you, home remedies for dandruff can help get rid of all these problems.
Now, some people believe that dandruff is the same as the dry scalp problem but it is not. But not to worry, there are many home remedies and we are listing a few of the best ones here below for your reference:
8 Best Home Remedies for Dandruff
Apple Cider Vinegar – Natural Remedy to Remove Dandruff
The first and foremost choice among herbal remedies for dandruff involves a little apple cider vinegar. All you have to do is mix a little of it into your hair with your final wash. This helps you get rid of your dandruff problem almost immediately.
Cosmetic Vinegar – Remedy for Hair Health
The next solution as home remedies for dandruff involves cosmetic vinegar. You can mix it with a little hot water and then soak a cotton ball into the solution and dab it onto your scalp using it.
Let this solution remain on your hair throughout the night and wash it off using baby shampoo or a mild herbal shampoo the next day.
Olive and Sesame Oil – Remedy for Dandruff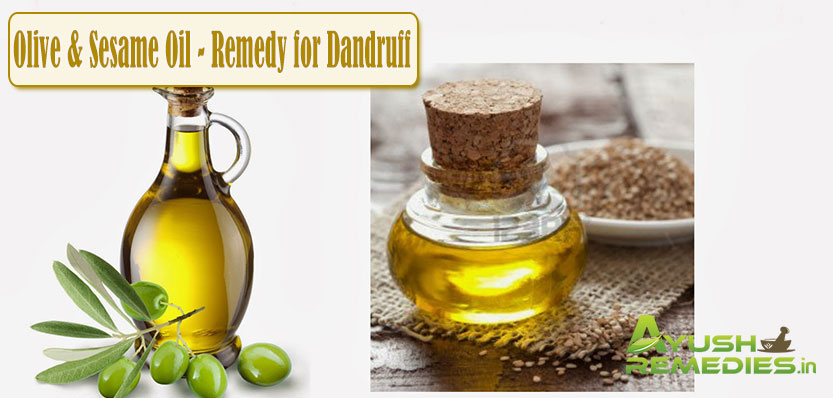 The third option when it comes to home remedies for dandruff involves olive oil or sesame oil. All you have to do is the heat this oil and massage it into your scalp.
You can follow this up by wrapping a hot towel around your head. Let it be for a while before wiping it off with a shampoo. This is another excellent remedy.
Lime with Gooseberry Juice – Natural Treatment to Treat Dandruff
The next thing you could do is to take some lime juice and mix it with gooseberry juice and curd. Rub this mixture gently onto your scalp and let it stay overnight.
In the morning, you can use herbal shampoo to wash it off. This is a very effective choice when it comes to natural home remedies for dandruff.
Gram Powder – Remedy to Prevent Dandruff
Washing your hair using green gram powder is also counted as great homemade remedies for dandruff. This can not only provide you an efficient solution but also provides immediate relief.
Almond Oil – Remedy to Getting Rid of Dandruff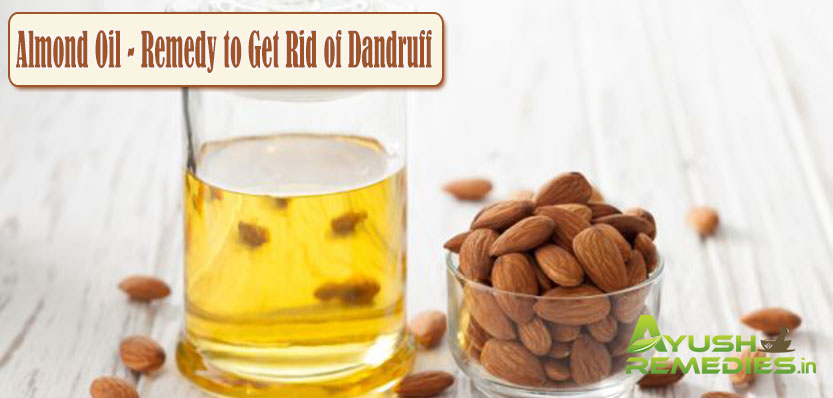 The next among herbal remedies for dandruff for you to consider involves taking some almond oil and then massaging it on your scalp for 5 minutes or so.
You should let it stay for a while on your scalp as this helps it get rid of dandruff more effectively. This is one option that should not be overlooked as far as home remedies for dandruff are concerned.
Lime Juice – Herbal Remedy for Dandruff
You can choose to rinse your hair using lime juice as well. Just shampoo your hair regularly and include some lime juice into the mixture the last time. This herbal remedy for dandruff is known to give some really effective results.
Fenugreek Seeds – Remedy to Cure Dandruff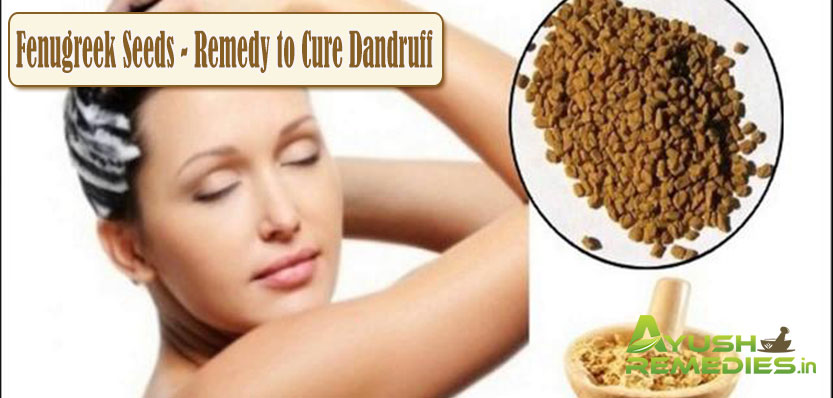 Now last but not the least among natural remedies for dandruff is by using fenugreek seeds. You can soak some fenugreek seeds overnight in water and make a paste of it in the morning.
Apply this paste directly on your scalp and let it stay for at least an hour before washing it off for best results.
We have unveiled some marvelous home remedies for dandruff and now it's your turn to select some of them and get remarkable results.
For more on hair care, check out:
Effective Home Remedies for Damaged Hair
Best Home Remedies for Oily Hair
You May Like…