Oily hair isn't something life-threatening but there may just be times when you feel that way. This problem is experienced differently by people with different hair as well. Generally, people who have blonde hair or straight fine hair have to deal with this problem more than others. But you shouldn't worry because in this article we are going to take a look at a few of the best natural remedies to treat oily hair and greasiness.
But before we start looking at home remedies for oily hair it is important for you to understand why this problem occurs. This condition is caused by the excessive production of sebum.
Even though this is required for maintaining the health of our hair, in excessive amounts, it can lead to stickiness and greasiness. Even weather conditions such as humidity, heat, etc.
can cause oily hair. Apart from this, hormone imbalances, heredity, androgen hormones, various medical conditions, frequent shampooing, and excessive combing can also lead to oily hair.
But not to fear, any of the home remedies mentioned below will be good enough to get rid of this problem of yours once and for all:
Home Remedies for Oily Hair
Oil Massage – Home Remedy for Oily Hair
When it comes to home remedies for oily hair it is very important for you to understand how important a pre-shampooing massage is. This helps in bringing out all the oil from inside your pores.
It basically helps push the oil out so that you can clean it while shampooing instead of missing it because it is hiding under your skin.
Essential Oils – Remedy for Oily Hair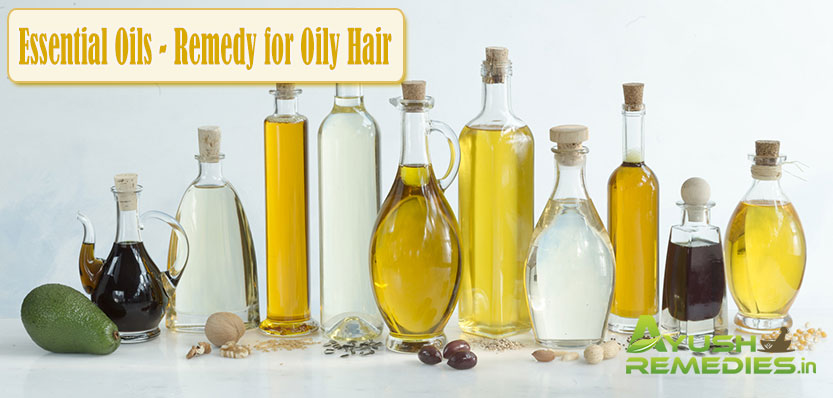 When speaking of home remedies for oily hair you just cannot miss essential oils. These chemical-free, natural oils are a great alternative to shampoo.
All you will need is a couple of drops of lavender and geranium and you will get an excellent shampoo that not only gets rid of oily hair but also helps make your hair healthier.
Just remember to test the oils on your skin before applying them to your head. You wouldn't want to be allergic to one of them and still use them right? And the best part about these natural oily hair remedies is that they smell very nice as well.
Avoid Conditioner – for Maintain Hair Health
You also need to understand that conditioner is not good for your hair. You should never use it unless you absolutely have to. Then too, only use it on the ends.
While this can't be considered a remedy when you think about it, wouldn't you prefer avoiding oily hair altogether instead of searching for homemade remedies for hair care and oiliness?
Avoid Hair Dryer – to Prevent Oily Hair
Exposing your hair to too much heat can also increase the secretion of oil from your pores. This means that you should try and avoid a hairdryer as much as possible and let your hair air dry instead.
Again, while this isn't a remedy, you would certainly prefer it to search for home remedies for oily hair right?
For more on skincare, check out:
Best Home Remedies for Shiny Hair
Home Remedies for Black Hair Care
Apple Cider Vinegar – Remedy to Get Rid of Oily Hair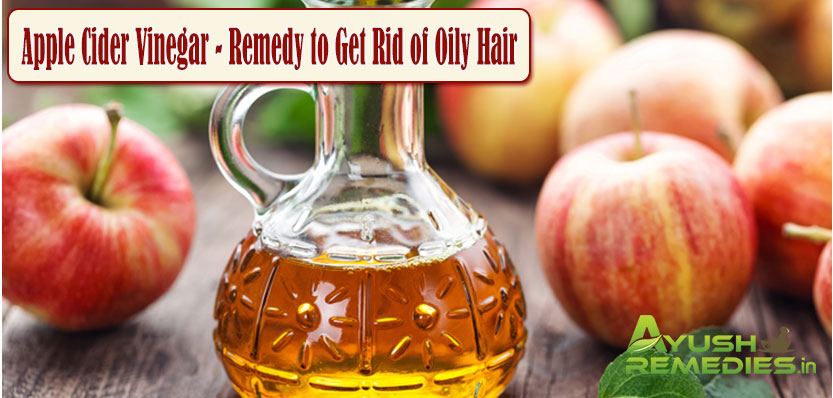 Apple cider vinegar is great as far as natural home remedies for oily hair are concerned as well.
Just take some of it and mix it with a little water and some fresh lemon juice and apply onto your hair immediately after shampooing it. Ensure you work it right into the roots and don't forget to rinse it off well too.
Beer – Remedy to Cure Oily Hair
Another great option when it comes to home remedies for oily hair is beer. That's right. Beer isn't only good for drinking.
You need to apply it to your head right after shampooing and let it stay for around 30 seconds. You can then wash it off using lukewarm water.
Tea Rinse – Treatment for Oily Hair
Tea rinse also serves as excellent home remedies for oily hair as well. Make a little tea, let it cool and then soak your hair with it. Rinse the tea off using plain water and you're good to go.
Aloe Vera Gel and Lemon Juice – Remedy for Hair Care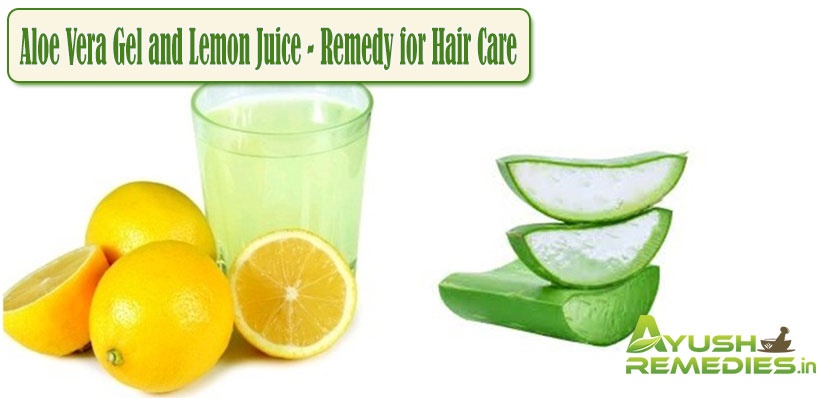 And lastly, yet another effective among herbal remedies for hair care and oily and greasy hair is aloe vera gel and lemon juice.
You can take some aloe vera gel in a small cup and mix it with some lemon juice. Take this mixture and put it into your shampoo.
Put this concoction onto your hair and leave it for 5 minutes. Wash your hair thoroughly after this. This is an excellent home remedy to get rid of oily hair.
Recommended reading:
Aloe Vera Moisturizing Gel for Skin Care
Baking Soda – Remedy to Treat Oily Hair
Baking soda is also capable of treating oily hair. Just mix a little bit of it with water and make it into a paste. Take this paste and rub it into your hair.
Let it stand for at least 3-4 minutes and then rinse it off using warm water. You can even consider applying baking soda to the roots of your hair if they are too dry.
Ensure you brush your hair thoroughly though so that the baking soda gets distributed evenly.
So what are you waiting for? Choose any of the above home remedies for oily hair and see your oily hair problems successfully disappear in a matter of days.
You may like reading:
Home Remedies for Damaged Hair
Home Remedies for Hair Growth And Thickness
You May Like…