Do you have trouble with damaged hair? If the answer to this question is yes then you are just one of the millions of people out there. This is a very common problem for both men as well as women. This isn't something that should surprise you either. Just consider the number of things that your hair has to go through, sun, rain, wind, cold, etc.
People further subject their hair to curling irons, chemicals, perms, etc. They may help your hair to look better but definitely don't help it become any healthier.
Luckily, there are quite a few home remedies for damaged hair and you can use any of them to help you fix your damaged hair.
There are some well-known remedies and you can choose the popular ones or the less popular ones as per your convenience. Now let's take a look at a few of these home remedies for damaged hair:
Home Remedies for Damaged Hair
Mayonnaise – Remedy to Cure Damaged Hair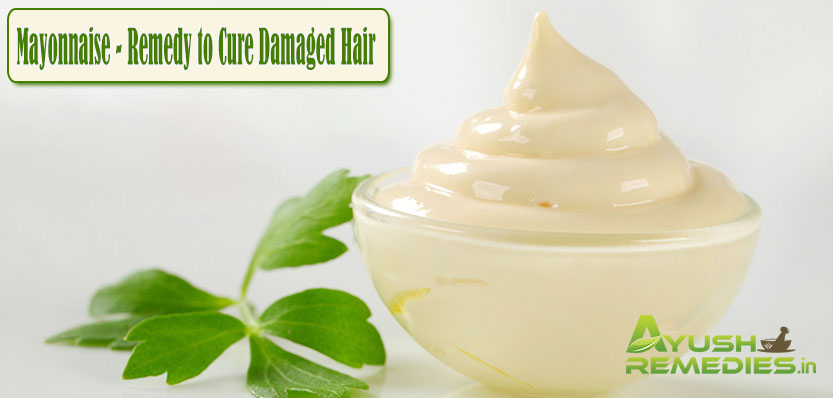 The first choice among herbal remedies is applying mayonnaise. That's right, we're talking about mayonnaise. This is a very messy solution but it works wonders.
After keeping this application for a few hours wash your hair thoroughly with a mild shampoo. You should only do it in an empty room with no one around.
This will help you avoid things getting very messy for anyone else. Remember to use regular mayonnaise too, not any low-fat or diet mayonnaise since it won't work.
Water – Natural Treatment to Repair Damaged Hair
As far as home remedies for damaged hair are concerned, you need to ensure you drink enough fluids, especially water.
This will help you repair damaged hair to a large extent. What's more, it will ensure you don't have to deal with damaged hair in the future either.
Avocado and Banana – Remedy for Damaged Hair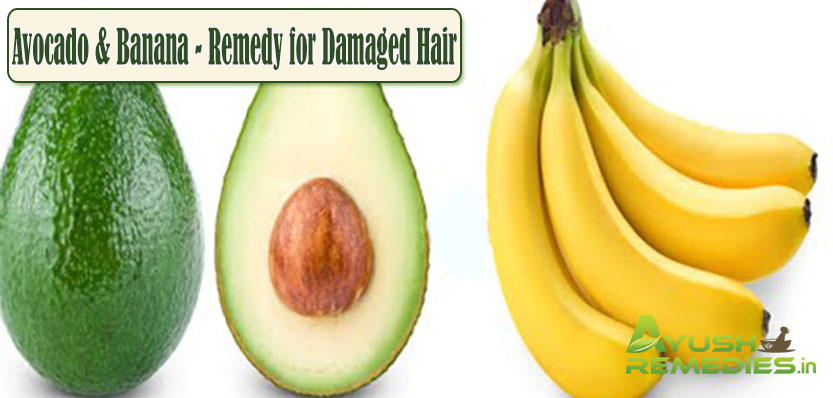 When we speak of natural home remedies for damaged hair then we can't avoid discussing a great combination of avocado and banana.
All you have to do is mash some banana and avocado together and spread it through your hair. You can leave it there for an hour or so.
After this time lapses, you can rinse it off using warm water. This will help in conditioning your hair and will also prevent your cuticles from drying out.
For more on hair care, check out:
Best Home Remedies for Shiny Hair
Home Remedies for Black Hair Care
Yogurt, Banana, and Eggs – Remedy to Remove Damaged Hair
The next natural option when you're searching for home remedies for damaged hair is a mixture of yogurt, banana, and eggs.
You can place a bit of yogurt in a blender and mix it together with an egg. Add the whole banana and some lemon juice to this mixture. You can also consider adding a little Vitamin E oil to give your hair a soft feeling and give it sheen.
Coconut and Olive Oil – Remedy to Get Rid of Damaged Hair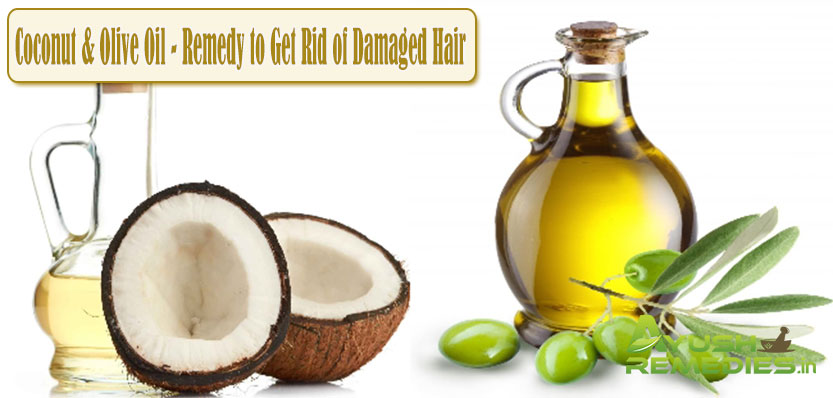 Another excellent natural combination is a mixture of coconut oil and olive oil. Rub some of this into your scalp. You can even use virgin oil if you want to. It is just as effective as a moisturizer. It can really help you repair split hair.
Eggs – Remedy for Damaged Hair
The third option among natural remedies for damaged hair involves a mixture of certain items that you can use to treat your hair before applying shampoo.
Just take 3 eggs and mix it with some vinegar and olive oil. Put this mixture onto your hair and let it stay for at least 30 minutes. You can use shampoo after doing this.
There are many other home remedies for damaged hair and you will not have to look too hard to find them either. So if you're having trouble with damaged hair then you surely don't have to worry.
There are quite a few people just like you and there is nothing to fear. You should never let damaged or dry hair let you get down.
If you're like most of the other people who deal with these problems all the time then you will certainly have a lot to gain from fixing your damaged hair.
The internet is a terrific place for you to start searching for herbal remedies but at the end of the day, none of those remedies will be as good as the ones mentioned in this article.
You will hear a lot of people talk about natural ways in which they can fix damaged hair but none of these natural ways match up to the home remedies for damaged hair mentioned here.
So what are you waiting for? Just choose any of these herbal remedies written in this article and get started right away. You will start seeing results almost instantly.
What's the worst that could happen? None of these homemade remedies cost too much. You won't lose anything even if they won't work. So why don't you give them a try? And you shouldn't worry because they will definitely work.
You may like reading:
Best Home Remedies for Hair Growth and Thickness
Home Remedies for Dry Hair
You May Like…