Where are my keys? Where are my glasses? These kinds of thoughts often come to our mind and we feel like if this is the situation now what will be my memory in the next coming years. Well at some point in life we all experience such moments when we forget the place where we kept things ourselves or sometimes we also forget the conversation we had with someone because our mind is having a number of thoughts running at the same time and we are not able to concentrate on a single thought.
Due to day by day increasing stress and competition we find it difficult to handle the pressure of day to day life. Every task takes a longer time to complete than it should just because of your weak concentration.
The greatest power of the human mind is to focus and concentrate as better concentration and strong memory power lead to an easier life.
A strong memory depends on the health and vitality of your brain. The causes of low memory or distraction of mind mainly depend on stress, anxiety and lack of sleep.
If you do not use your brain and don't keep it active it becomes dull and rusty. While there may be other severe reasons too, that decreases your brainpower such as overuse of alcohol, high fever, any surgery you have gone through or attack of epilepsy.
A stroke can cause sudden memory loss but it lasts for a few minutes. Other reasons leading to memory loss are a nutritional deficiency or other illness and the use of medications like anti-depressants, sleeping pills, etc.
You may like reading:
Ayurvedic Medicines for Memory Power Improvement, Improve Focus
Ayurvedic Medicines to Improve Eyesight and Eye Vision
Ayurvedic Remedies to Increase Brain Power
Forgetfulness, confusion and any kind of mental instability or memory loss are the common symptoms that can bring more severe diseases like brain tumors and Alzheimer's disease which do damages to brain cells.
You should immediately notice these symptoms and seek the proper treatments. Ayurvedic medicines to increase brain power are the complete solution for you.
Ayurveda is a treasure of hundreds of herbs and is known all over the world and used for ages for healing with its medicinal herbs that are highly beneficial and powerful remedies with no ill effects and are purely natural.
There are various ayurvedic remedies to improve memory power. Some of them are listed here with their qualities explained.
Brahmi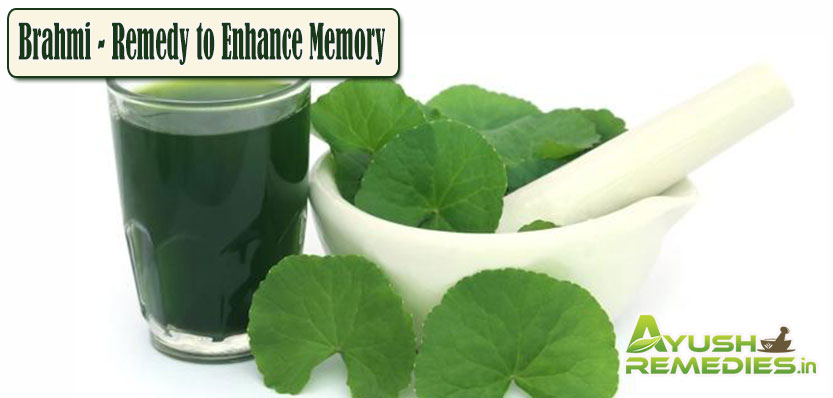 Brahmi is a herb commonly used as a memory enhancer. This therapeutic herb works as a tonic for brain-related health problems. It acts as an anti-anxiety agent that relieves stress and boosts memory power and increases your concentration.
Shankpushpi
It is a rejuvenator herb that controls blood pressure and is great healing herb used for increasing mental powers. Even these are used during exams by students for relieving stress and gaining focus.
Jatamansi
It grows in the Himalayas and is a calming and relaxing herb. Its roots are used for treating all mental issues.
It is also a very commonly used herb in Ayurveda which helps in treating insomnia, depression, and stress-causing conditions. It is also helpful in regaining memory loss.
Swarna Bhasma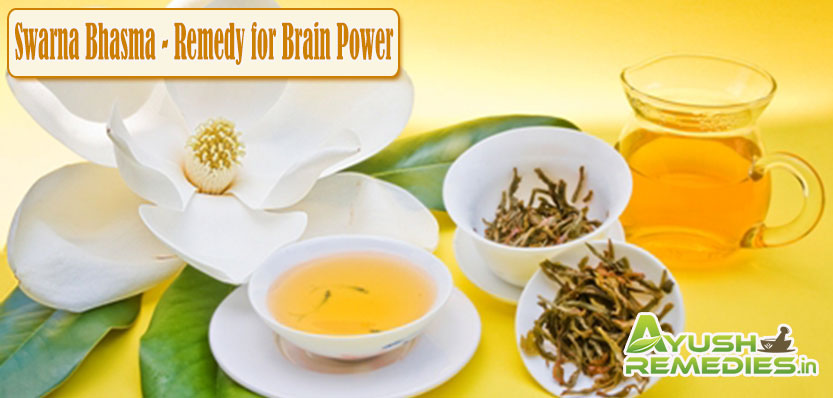 Swarna Bhasma is powder prepared from pure gold. It is a wonderful herb used in ayurvedic medicines to cure so many chronic diseases. It boosts immunity, focus and concentration power making your mind sharp.
BrainOBrain capsules have all the above stated highly efficient herbs and many more beneficial herbs that make your mind sharp and focused with a boosted memory power.
Ayurvedic Medicines to Increase Brain Power
Ayurvedic remedies to increase focus are suitable for all ages and can be taken with any other ongoing treatment as they are completely natural and non-toxic.
A healthy mind can help you be more productive with your work and lifestyle and ayurvedic medicines to increase brain power to improve brain functioning by balancing hormones and relieving stress increasing your memory storage capacity.
Ayurvedic medicines to increase brain power check for the root cause of psychological disorders providing your brain with healthy nutrients and maintaining communication between brain cells and protect them from deterioration as these medicines are loaded with natural and nutritional herbs.
You can regain your sharp mind, sharper focus, and concentration with a healthy brain. All thanks to ayurvedic medicines to increase brain power.
Ingredients of BrainOBrain Capsules
Brahmi, Shankhpushpi, Ashwagandha, Ustekhadus, Chandi Bhasma, Swarna Bhasma, Gurhal, Brahmdandi, Shatavari, Gorakhmundi, Amberved, Vidhara, Salabmisri, Rataloo, Kachnar, Vacha, Jyotishmati, Unab, Jatamansi, Augustia and Aparajita, Utseyakhadus, Asaloo.
Consumption of these ayurvedic medicines to increase brain power on a daily basis for three to four months can regain your memory powers and your brain's memory storage capacity improving your concentration and focus.
Take one or two capsules with water daily after breakfast and dinner as ayurvedic brain power supplements for impressive results and a better lifestyle.
These medicines are not meant to generate any sort of side effects. Since these contain all herbal formula that is not supposed to react with any other ongoing medications, one may anytime start or end the course with no fear of side effect or withdrawal effects.
You may like reading:
Ayurvedic Medicines to Increase Energy, Stamina, and Strength
Ayurvedic Medicines for Weakness, Fatigue and Low Energy
You May Like…