If you want to improve memory and concentration, then BrainOBrain capsules are just for you. These herbal pills help a person a lot to increase the sharpness of the brain.
A human brain needs a continuous blood supply to work optimally as it carries oxygen with it. Other than oxygen, it needs chemical fuel, active neurons, and neurotransmitters to work well.
But various factors hinder its functioning. These are alcoholism, nervous system disorders, Parkinson's disease, psychological factors, and aging.
Ayurvedic Herbal Memory Booster Supplements
BrainOBrain ayurvedic memory booster supplements help improve memory and concentration since herbal ingredients in these pills prevent forgetfulness and elevate learning abilities, mental alertness, and sharpness.
These capsules relieve nerve cells, energize brain cells, prevent the cells from any damage, and nourish them.
If someone wants to increase the sharpness of the mind, he/ she needs to delay aging as well, since growing age is one factor that can degrade one's mental skills.
It is carried successfully by BrainOBrain since the herbal components used to make these ayurvedic memory booster supplements neutralize the free radicals by supplying enough antioxidants.
If someone is regular with the course, he/ she is sure of getting outstanding results because the capsules can curb chronic illnesses like Parkinson's disease as well, which is indeed one of the serious cases. Therefore, you will be experiencing significant benefits.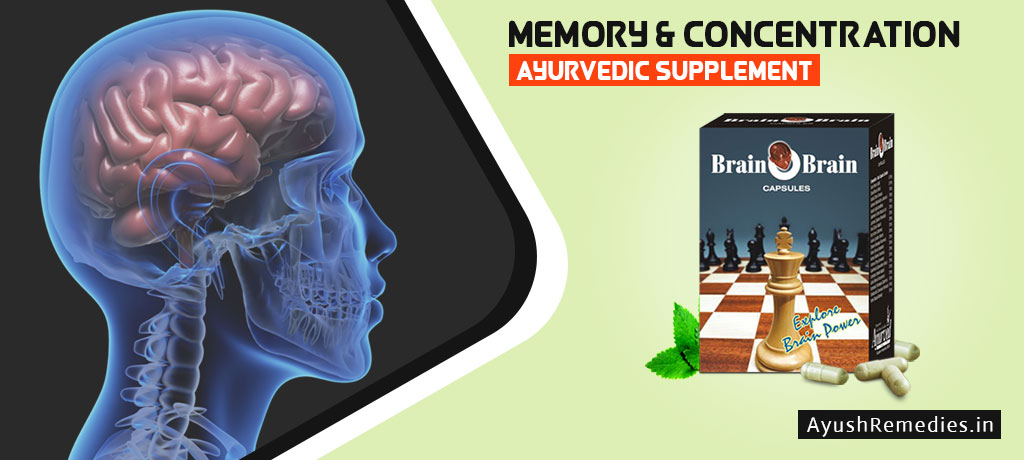 Frequently Asked Questions
Do BrainOBrain capsules cause any side effects?
No, BrainOBrain capsules do not cause any side effects even if someone takes these for longer than recommended.
How long do I need to take these capsules to improve memory and concentration?
To improve memory and concentration, you will need to consume BrainOBrain capsules for about 12 to 16 weeks to get considerable outcomes. It is an average limit and varies from individual to individual.
How to consume these capsules to improve sharpness?
Take 1 or 2 capsules of BrainOBrain 2 times a day with water or milk and repeat the same process consistently for 3 to 4 months.
What is the preferred diet to improve memory and concentration?
For outstanding brain functioning, regular intake of BrainOBrain is necessary, and depending upon a specific diet isn't a mandatory factor. But still, we would like to recommend foods rich in vitamins and omega-3 fatty acids.
It covers all the fruits and vegetables, walnuts, almonds, fish, olives, olive oil, avocado, ground flax seeds, etc. This habit supports the process and brings rapid results.
How can I buy BrainOBrain capsules in India, and from where?
You have two options. One is Cash on Delivery, and another includes advance online payment. Either of these methods further involves four major steps:
Pick out the number of packages you wish to buy from the drop-down menu and click the Add to Cart button.
Fill up all the details regarding billing, such as your name, complete postal address, email, and contact number.
From among the three payment options – direct bank transfer (NEFT), cash on delivery, demand draft (DD), or cheque – you have to choose one of the most convenient methods.
Finally, click on the PLACE ORDER button. The last step for advanced money payees (DD, NEFT, or cheque) involves sending bank payment details through a text message or email. We ship all the parcels right after receiving the confirmation that the payment in full is accomplished.
How will ayurvedic memory booster supplements be received at my house if I order? Within how many days will I receive BrainOBrain?
We believe in discreetly packing all the ordered products since this ensures that their parcels are kept private and never exposed to anyone. Our customers generally receive their package somewhere between 3 to 5 business days.
Please pin the image below. Remember, Sharing is Caring!
Popular terms: Buy BrainOBrain capsules in India, How to purchase BrainOBrain in India, BrainOBrain price in Indian rupees