Memory and concentration are important aspects of one's life when it comes to performing any task.
Without memory, you cannot remember things, which is troublesome because facts like your family members' and friends' identity, daily tasks, studies, performing maths, or puzzles require brain effort.
Those who are poor in grasping the basic things are known for their reduced mental ability. In that case, one requires effective herbal pills to improve brain power and mental alertness, such as Brahmpushpi capsules.
Many factors are responsible for this condition, such as Parkinson's disease, anxiety, stress, depression, Alzheimer's, dementia, medicinal side effects such as those for treating psychological disorders, growing age, poor diet, withdrawing alcohol consumption, doing drugs, etc.
Whatever is the reason, Brahmpushpi capsules will always be there to rectify the problem.
Herbal Pills to Improve Brain Power
Brahmpushpi capsules help to improve brain power and mental alertness naturally. This herbal supplement requires a constant dedication towards its consistent intake.
Besides this, you will not face any side effects irrespective of other medicines' intake in parallel. The duration in which you take these, where you decide a longer or shorter period, would be beneficial.
Be regular while taking Brahmpushpi capsules, and get ready to have the sharpest mind ever.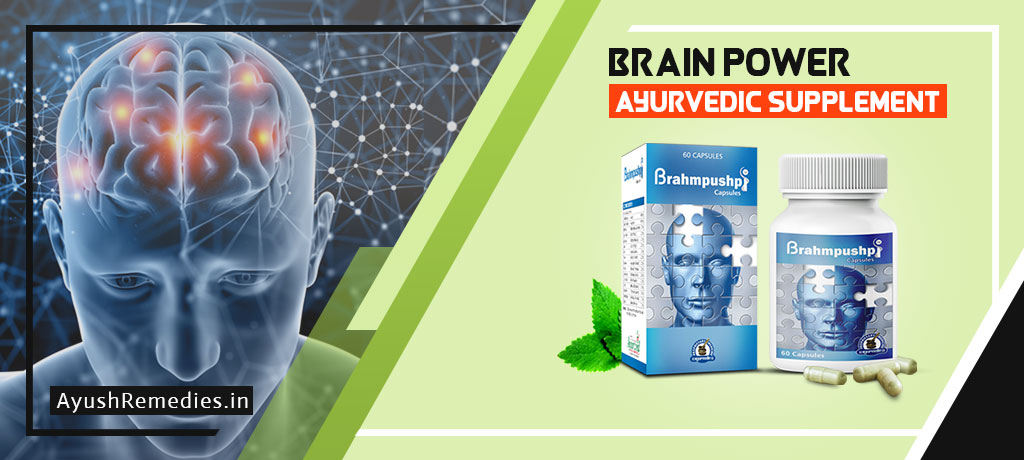 Frequently Asked Questions
Do Brahmpushpi capsules cause any side effects?
Brahmpushpi capsules do not cause any side effects, no matter how long you consume them or with which prescribed medicines you take these herbal pills in parallel.
How long do I need to take these herbal pills to improve brain power and mental alertness?
Generally, it takes between three to four months when it comes to showing considerable changes. That depends on your present situation, which explains what condition you are in and approximately how many months it will take for you to recoup.
This factor suggests that you might take less than three months or more than four months as well.
How to consume these herbal pills to improve brain power and mental alertness?
Take 1 to 2 capsules of Brahmpushpi after breakfast and dinner regularly for 3 to 4 months to observe good results.
What is the preferred diet for brain power and mental alertness?
For better brain power and mental alertness, you must take foods rich in omega-3 fatty acids. Foods like avocado, almonds, walnuts, ground flax seeds, fish, olives, olive oil, etc., are rich in that, so we recommend taking these daily and the course.
This habit supports the course, and so the results are seen rapidly. If there is an unavailability of these things nearby, your locality, then don't worry since Brahmpushpi capsules alone can also provide considerable changes.
How can I buy Brahmpushpi capsules in India, and from where?
We have a Cash on Delivery (COD) facility and online advance payment for you if you are keen to buy Brahmpushpi capsules in India. It involves step-by-step processes:
Attempt to select the quantity of desired product package by choosing from the given drop-down menu. Click on Add to Cart button.
Fill in all your billing details correctly and carefully, such as full name, postal address, email, etc.
Choose from these three payment gateways – cash on delivery, direct bank transfer (NEFT), demand draft (DD), or cheque.
Press the PLACE ORDER button now.
If you've gone for the advanced payment option, send us an e-mail or SMS that consists of your bank transaction information. After we obtain the verification of the payment, we will send your ordered products to your location.
How will these herbal pills improve brain power be received at my house if I order? Within how many days will I receive Brahmpushpi capsules?
We always perform discreet wrapping up of products to ensure safety and privacy. The parcels are usually delivered in between three to five business days.
Please pin the image below. Remember, Sharing is Caring!
Popular terms: Buy Brahmpushpi capsules in India, How to purchase Brahmpushpi in India, Brahmpushpi price in Indian rupees