What is Shighrapatan?
Shighrapatan or premature ejaculation is one of the most common disorders related to the male reproductive system. Males having issues that may be related to their nervous or reproductive system or to their metabolism or mental health suffer with premature ejaculation.
Medically it is said that males discharging within 2 minutes after penetration are suffering from premature ejaculation or PE. However, there is no general timeline that can determine this problem.
Basically inability of a male to control his discharge and provide the satisfactory duration of lovemaking is reckoned as the problem of PE which has a serious impact on the relationship and also over the male's psyche.
PE is the most commonly found problem in males because many factors varying from mild to serious can play a role in raising this issue. Home remedies for Shighrapatan are very popular ways of treating this problem.
These methods are not only effective and safe but can be used discreetly which is very important for a male.
If not handled the weaknesses and issues which cause this problem to keep on progressing and raise other disorders as well. Most of the time males allow this problem to grow as they feel ashamed and embarrassed while talking about this problem.
It is estimated that 1 out 3 males suffer from the problem of PE and a large percentage of couples lead a less pleasurable love-life. Changed lifestyle and dietary habits are major reasons behind the rapid growth of this disorder in males.
Home remedies for Shighrapatan are effective because these handle issues arising due to an unhealthy lifestyle and poor diet more efficiently than medicines or therapies etc.
No matter how grave and serious this problem may appear to be proper treatment can alleviate it considerably or completely.
For more on shighrapatan, check out:
Ayurvedic Treatment for Shighrapatan
Ayurvedic Treatment for Shighrapatan
Causes and Symptoms of Shighrapatan
There are numerous varied causes of PE. Activities, habits, and diseases which deteriorate nerve functions, reduce their energy levels or cause damage are reasons for PE.
Nerves in the male genital region are responsible for keeping semen locked and allow it to pass only when male wishes to.
Habits like smoking, alcohol, drugs, and the use of steroids are few common causes of PE as these deteriorate nerve functions and make them weak to promote PE.
Many males perform coition and hand-practice excessively. These practices are damaging as these reduce testosterone hormone levels and also stress the reproductive system and organs which eventually weaken nerves.
Certain types of diseases like diabetes, high blood pressure, thyroid problems, and their treatments cast side effects which are debilitating for nervous system and raise issues like PE.
Apart from physical and behavioral causes psychological causes are also common reasons for PE. Males suffering from issues like anxiety, depression, restlessness, etc. become victims of several issues related to their reproductive system.
Such males face disorders like low libido, ED and PE due to poor mental health and stature. Many males are unable to control their excitement levels in bed.
This happens naturally to them and they become too excited to control their discharge of sperm.
Males are considered as romantic creatures and take a lot of interest in erotic conversation or material. Many times such conversation and exposure to erotic material during the day cause over-excitement at night and bring regular episodes of PE.
Apart from these, there can be other causes too which can reduce male's endurance level in bed temporarily or for long term like issues related to weak erections, lack of interest, use of sedatives, etc.
The inability to control ejaculation is a clear symptom of Shighrapatan. Males who discharge before they wish to repeatedly are at the borderline of PE.
Males discharging within 2 minutes after penetration or much before their partner is satisfied are confirmed victims of PE. Excessive precum and over-excitement on slight persuasion signify emotional and nerve weaknesses which bring early ejaculation.
Home Remedies for Shighrapatan
Asparagus and Milk
Asparagus is renowned for its powerful effects which delay the male's ejaculation and prolong his stay in bed. Take 2 teaspoons of asparagus powder and add to a cup of milk.
Keep the mixture to boil for 10-15 minutes and later let it steep. When mixture is warm consume and repeat one more time in the day. Regular use of asparagus balance hormonal secretion and energize the male reproductive system.
It also improves mental health, energy levels, and emotional status and is reliable home remedies for premature ejaculation.
Onions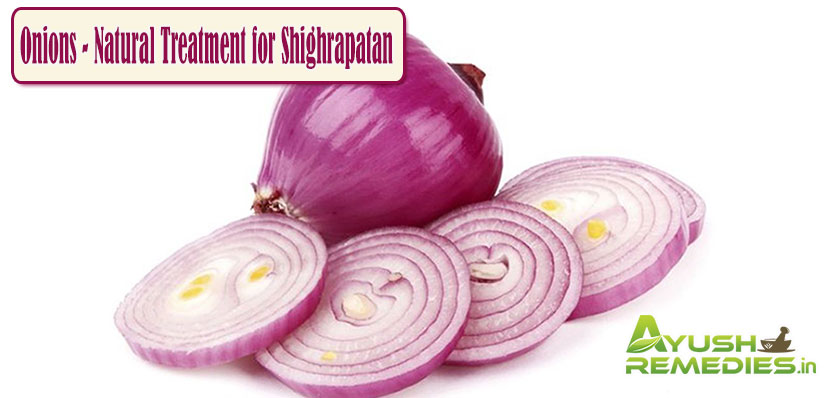 Onions are good foods to eat to increase the duration in bed. Green onion seeds are excellent home remedies for Shighrapatan. Take a teaspoon of crushed green onion seeds and add to a glass of water.
Drink these before meals regularly. Green onion seeds improve male's endurance in bed and support functions of the reproductive system to eliminate the problem of PE.
Almonds, Milk, Cardamom and Ginger
Almonds provide one of the trusted home remedies for Shighrapatan and also improve the mental and physical health of a male. Take 10 almonds and soak them in water, leave overnight.
In the morning peel them off and grind to form a paste. Add almond paste to a glass of cow's milk and keep the mixture to boil.
After few minutes put off the flame and let the mixture become warm, add a pinch of cardamom and ginger powder each and few strands of saffron and drink. Repeat regularly to alleviate symptoms of PE.
Ladyfinger and Milk
Ladyfinger provides one of the old and trusted home remedies for Shighrapatan. Take about 10 grams of ladyfinger powder and add to a warm glass of milk.
Add sugar candy about two teaspoons in quantity and stir the mixture till it gets dissolved. Consume at night on a regular basis will increase staying power in bed in a short time.
Ginger and Honey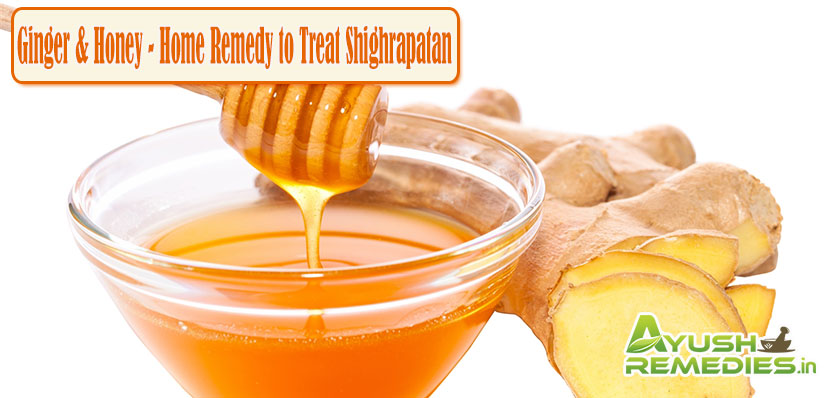 Ginger and honey in combination are good and reliable home remedies for Shighrapatan. Take an inch long piece of ginger and crush it.
You can also extract the juice of ginger about a teaspoon full. Add ginger juice with an equal amount of honey and add to a glass of warm milk.
Consume this every night on a regular basis to get rid of the problem. Ginger and honey both are aphrodisiac in nature and improve functions of the male reproductive system. These are also good for curing issues like low libido and ED.
Ashwagandha, Honey and Milk
Ashwagandha is a hormonal balancer and also a renowned aphrodisiac herb. It enhances energy and vitality and also improves the mental health of a person.
It is recommended for treating psychological issues in males of all ages. Take two teaspoons of Ashwagandha powder and add to a glass of milk.
Add honey for taste and drink before bedtime regularly. This is one of the trusted home remedies for premature ejaculation.
Carrots, Egg and Honey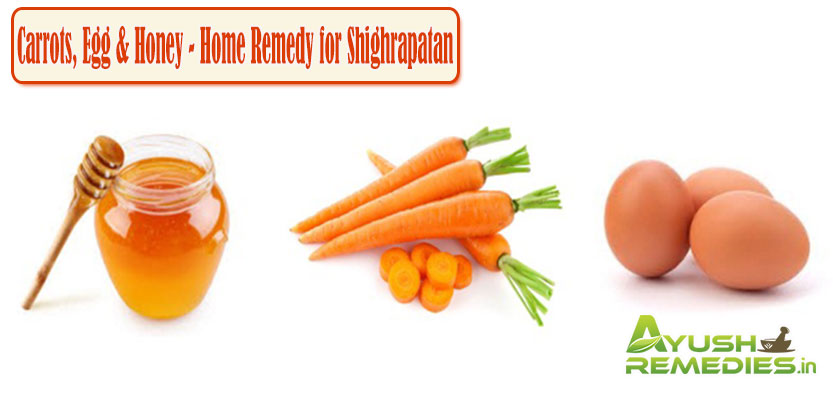 Chop two carrots finely. Take one egg and hard boil it, cut it into fine pieces. Mix carrots and egg and add a tablespoon of honey to the mixture.
Consume this mixture regularly for 2-3 months to get rid of the problem. Once you are satisfied with the results reduce intake of this gradually.
Carrots and eggs are full of nutrition which supports functions of the reproductive system and also improves energy levels. These are good home remedies for Shighrapatan.
Kegel Exercises
Kegel exercises are also recommended as home remedies for premature ejaculation. These exercises train muscles in the male genital region which stops the urine stream in the middle.
By squeezing these muscles in bed male can give a pause and delay the release of sperm. These exercises allow the male to prolong his duration as long as possible and make love for a satisfactory duration.
Practice squeezing muscles in which you would stop urine flow a few times during the day to prevent early discharge.
Diet to Prevent Shighrapatan
Diet for Shighrapatan patients shall be high in fiber, minerals, vitamins, and antioxidants. There are foods which are aphrodisiac in nature which means these safely increase testosterone hormone level.
This hormone is vital for the mind, muscles and reproductive system of a male.
Diet of PE patient shall comprise of wholegrain mainly. These are minerals and fiber-rich foods which also relieve mental tension.
Males eating a diet with a higher level of wholegrain stay mentally fresh and relaxed and also energized and active. Fruits are sources of vitamins, fiber and minerals too.
All types of fruits shall be included in the diet of PE patients. Onion and garlic are rich in allicin compound which is aphrodisiac in nature.
Green veggies keep metabolism higher and also increase blood's nutrient and oxygen carrying capacities. All these shall be part of the regular diet of PE patients.
Dark chocolate, walnuts, pistachios, asparagus, carrots, and pears are also nutrient-rich foods that are widely recommended as part of the PE patient diet.
Eggs, milk, and fruits like banana and avocado are especially recommended as part of diet for male recovering from the problem of PE.
Shighrapatan Treatment and Prevention
Home remedies are the best premature ejaculation treatment. But along with these remedies, other steps also work as useful ways to resolve the problem quickly.
Stay away from unnecessary stimulating thoughts that bring arousals. Regular arousals lower testosterone hormone level, stress out vital organs like prostate gland and bring issues like ED, low libido and PE.
Avoid stimulating foods and drinks on a regular basis for faster and better premature ejaculation treatment. Drinks like alcohol, smoking, tobacco, excessive tea and coffee intake and too many beverages all are directly or indirectly responsible for causing the problem.
Stay active during the day to prevent the problem. Exercise regularly. Regular exercises maintain healthy blood flow towards the pelvic region and keep the nerves and organs of the genital region active and strong.
Exercises provide better and faster premature ejaculation treatment and also prevent the problem from occurring.
Take care of your medicines. Sedatives, tranquilizers, anti-depressant, beta-blockers, etc. are also responsible for causing the problem. Do not sit for long hours straight.
If you are in a sitting job take a walk after every few hours to maintain the flow of blood in the pelvic region. Avoid tight-fitting clothes and eat light at night.
All these steps provide faster and better premature ejaculation treatment and also prevent the problem from occurring.
There are few herbs that have gained a worldwide reputation in treating a number of male sexual disorders including shighrapatan.
Lawax capsules are Lawax oil are finest ayurvedic formulations specially made to eliminate the root cause of PE and improve stamina and power in males.
These pills and oil improve blood circulation, repair weak male reproductive organs and provide nutrition to the overall body in order to uplift male performance in bed.
You may like reading:
Ayurvedic Medicines for Shighrapatan, Early Ejaculation Problem
Ayurvedic Capsules and Oil for Premature Ejaculation
You May Like…