How to Whiten Your Teeth Naturally?
We're quite sure you are just like any other person who would want their teeth to sparkle. Unfortunately, this is a lot easier said than done. The only good news for you is that there are quite a few home remedies for teeth whitening that you could consider and all of them work just as effectively.
When you have white teeth, it doesn't only make you feel younger but also makes you look more attractive and feel more confident and self-assured.
There are quite a few reasons why a person would be suffering from discolored or yellow teeth although some of the most frequent causes are tobacco, alcohol, excessive coffee consumption, poor dental hygiene, climatic conditions, old age, emotional shock, and hereditary reasons.
Now, before we start looking at some of the best home remedies for teeth whitening you should know some of the symptoms of this problem.
After all, it is only when you know all the problems that poor teeth can cause that you will be interested in some efficient home remedies for teeth whitening right?
Grey, yellow, brown or black stains on your teeth
White strips on your teeth which are caused by a high amount of fluorine
Now that you know a couple of the worst symptoms of poor teeth, let's now take a look at a few of the simplest home remedies for teeth whitening that you can try:
You may like reading:
Home Remedies to Quit Tobacco
Home Remedies to Quit Tobacco Chewing
Home Remedies for Teeth Whitening
Vinegar, Baking Soda and Table Salt for Whitening Teeth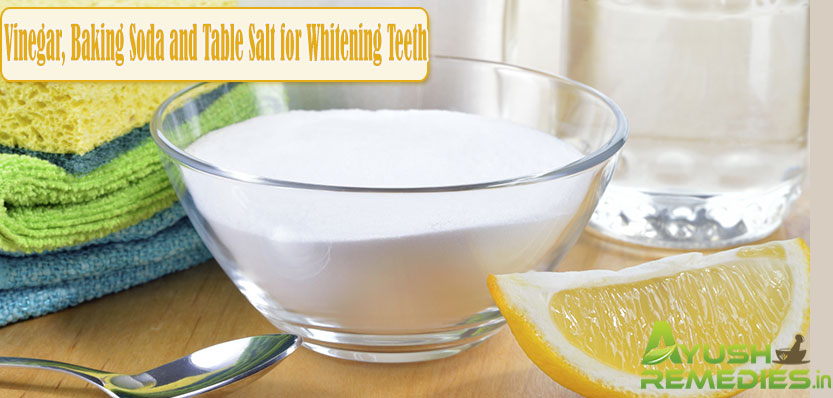 When it comes to home remedies for teeth whitening, you just can't afford to ignore this first remedy. It basically involves the use of some vinegar, baking soda and table salt.
You will need around half a teaspoon of vinegar, a tablespoon of baking soda and just a pinch of salt. Mix all of these ingredients together and then brush your teeth using the mixture.
This will not only help make your teeth look white but will also get rid of all the harmful bacteria on them. If you don't want to go through the effort of getting these ingredients and mixing them you can simply use baking soda on its own.
It works just as well. All you have to do is put some on your brush and start brushing.
Stay Away from Tobacco and Hard Liquors for Whiten Teeth At Home
The next choice you have is not really a remedy as much as a preventive measure. You need to stay away from tobacco, alcohol and all other forms of hard liquors and drugs.
These things all cause a lot of bacteria to form on your teeth and also discolor them quite badly. No amount of home remedies for teeth whitening will be able to help you if you don't stop doing all these things.
Sage or Baking Soda Mixed with Toothpaste for White Teeth
The third option when it comes to home remedies for teeth whitening is sage. This herb has proven time and time again that it is among the most effective herbs when it comes to making your teeth shine.
It's known to have very strong astringent, anti-fungal and antibiotic properties. All you have to do is take a little powdered sage and mix it with your toothpaste.
You could also consider mixing it with a little baking soda. Use the mixture to brush your teeth regularly for the best results.
Use Crushed Walnut to Whiten Teeth
The next choice as home remedies for teeth whitening is crushed walnut. This is known to be very effective in keeping your teeth glowing and protecting them from harmful bacteria.
It also acts as a natural cleaner and prevents your teeth from becoming yellow.
Dried Orange Rinds and Dry Basil Leaves to Make Teeth White
The next remedy you can look at as far as home remedies for teeth whitening are concerned involves some dried orange rinds and a few dry basil leaves.
Mix both these things together and then use the mixture to clean your teeth. This method is known to be quite effective as far as tooth whitening is concerned.
Strawberries Paste to Whiten Teeth
The next remedy is strawberries. That's right, even strawberries are very effective when it comes to whitening your teeth.
All you have to do is grind a few strawberries together and then use the paste that is formed to scrub your teeth. It will definitely start showing results in a few days' time.
Use Wood Ash to Remove Gums
Wood ash is another great remedy for whitening of the teeth. It contains potassium hydroxide which is a compound that can help in bleaching your teeth. You can mix it into your regular toothpaste or just simply use it directly as well.
Hydrogen Peroxide for Healthy Teeth
Hydrogen peroxide is another great way for you to get rid of dirty teeth. It is known to give long-lasting results within a few weeks' time. You simply have to brush your teeth using the chemical.
You may feel a slight burning sensation on your gums but that is normal. Do not swallow the chemical though. If you aren't certain of how to do this then simply dip a cotton ball into the solution and then use it to whiten your teeth.
You may like reading:
Get Rid of Side Effects of Gutka
Home Remedies for Bad Breath
You May Like…