Gaining weight is the most critical task for the people who are underweight. People who are underweight are considered unhealthy and have less body fat than required for wellness. Being underweight affects one's self-esteem and confidence as they are called unfit and unhealthy whenever they get social. There may be different reasons for being underweight.
Some people are naturally slim while some are lean due to physical or mental illness or because of fewer nutrients in their body.
Mental illness of a person highly influences their body such as a person going through depression may feel a loss of appetite which leads to a sudden weight loss.
Whereas other health conditions responsible can be hormonal imbalance or weak digestion causing a change in a person's food intake capacity.
Anemia, tiredness, vitamin deficiencies and having weak immune system or skipping meals can also be the reason for inadequate nutrients.
Body fat is estimated using a measurement known as Body Mass Index (BMI). If your BMI is between 18.5 and 24.9 then it is a healthy weight; in case of more or less than the normal range implies that the person might be having some health problems.
The formula for calculating BMI is to divide your weight by your height squared. Here are steps to calculate your BMI:
Firstly, find your weight in kilograms and your height in meters. For example, weight = 50 kg height = 1.8 m
Multiply your height by itself, e.g. 1.8 x 1.8 = 3.24
Divide your weight by that figure, e.g. 50 ÷ 3.24 = 15.4
15.4 is a BMI value that is below the healthy body weight range.
For more on weight gain, check out:
Ayurvedic Weight Gainer Capsules for Men
Herbal Weight Gainer and Muscle Builder Supplements
Ayurvedic Remedies For Weight Gain
In order to gain weight, one must be dedicated to it as it is not easy to gain weight just by eating because muscle mass should be gained without gaining or burning excessive fat since consuming more calories than you burn is essential for weight gain.
So, physical activity is also necessary so that you would not obtain excessive fat.
Many people want to gain weight just to enhance their physical appearance or for sports purposes. Therefore, Ayurveda is the only way to provide you with increased muscle mass with balanced nutrients and reduced health risks.
Ayurvedic medicines for weight gain are loaded with vitamins and minerals with no ill effects or harmful toxic elements. It contains healthy herbs specially chosen for building up your muscles. Have a look:
Asparagus Adscendens (Safed Musli)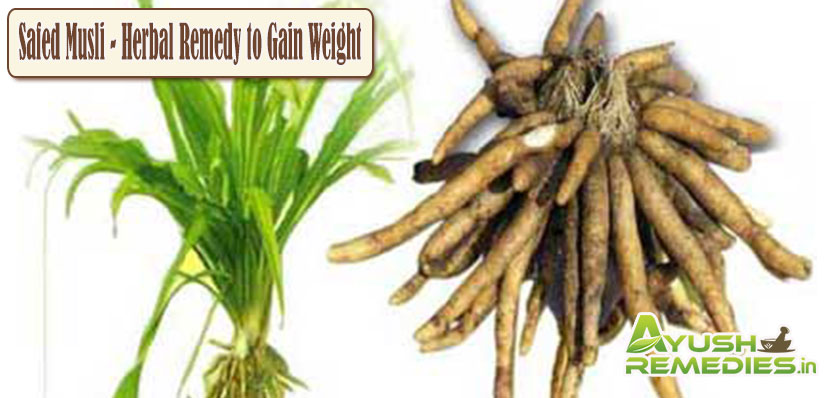 This herb is found in the western Himalayas and its stem is round, smooth, whitish in color and it tastes sweet. It is very useful in gaining muscle mass in a short time largely.
Withania Somnifera (Ashwagandha)
Also defined as Indian ginseng, it is known as the most important herb due to its nutritional value. When it is taken with a high calorie diet, it acts as highly effective ayurvedic remedies to increase body weight.
Asparagus Racemosus (Shatavari)
Shatavari herb is an excellent hydrator that helps to maintain the fluid balance inside the body. Shatavari is also helpful for increasing body weight and improves the digestion system to a significant extent.
Eclipta Alba Hassk (Bhringraj)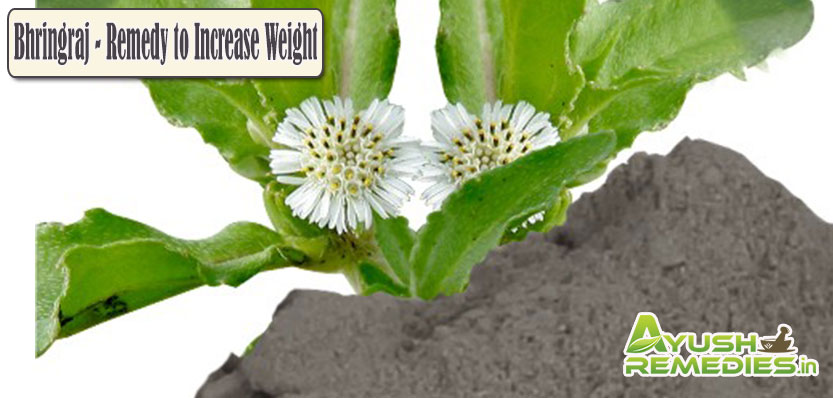 Bhringraj is also is known as false daisy which is described as Rasayana in Ayurveda which means rejuvenating tonic. It gives strength to the body.
Ayurvedic Medicines for Weight Gain
These ayurvedic medicines for weight gain are a terrific combination of traditional herbs and spices, that are being blended together with many other valuable herbs which creates the perfect formula to increase muscle mass naturally.
Ayurvedic medicines for weight gain fulfill your body with calorie intake and increase your muscle mass. If you are underweight, aiming to gain weight safely you should not hesitate to prefer our ayurvedic remedies for muscle mass.
We introduce you to FitOFat capsules that contain all the above mentioned key components plus some more additional herbs as the best solution for you to help in decreasing the bad cholesterol and increase the good cholesterol levels in our body; thereby maintaining the required weight.
FitOFat capsules regulate your appetite resulting in increased muscle mass. Ayurvedic medicines for weight gain improve your muscle strength, increase body weight naturally, reduce stress, boost the immunity of the body and rejuvenate body tissues.
Ingredients of FitOFat Capsules
Withania Somnifera (Ashwagandha), Asparagus Adscendens (Safed Musli), Saffron (Kesar), Asparagus Racemosus (Shatavari), Mucuna Pruriens (Kavach Beej Bek), Caryophyllus Aromaticus (Long), Pueraria Tuberose Dc (Vidarikand), Eclipta Alba Hassk (Bhringraj), Lagerstroemia Flos Reginae (Jarool), Myristica Fragrans (Jaiphal), Phyllanthus Emblica (Amla), Swarna Bang, Zingiber Officinale (Sonth), Piper Longum (Pipal), Tephrosia Purpurea (Sarpunkha), Boerhaavia Diffusa Linn (Punarnva), Celastrus Paniculatus Wild (Malkangani), Solanum Nigrum Linn (Makoy), Oroxylum Indicum (Arlu), Asteracantha Longifolia (Talmakhana), Chilkamkoy (Chilkamakoy), Plumbago Zeylanica Linn (Chitrak), Mesua Ferrea Linn (Nagkesar), Carica Papaya (Aarndakakdi) and Tacca Aspera (Barahikand)
Usage of FitOFat as ayurvedic remedies to increase your body weight makes your body look healthy and well formed that increases muscle mass naturally.
Consuming FitOFat capsules is very easy. Take one or two capsules daily with water or milk for at least 3 to 4 months for the body you wish for. Ayurvedic medicines for weight gain are the safest and healthiest option you can trust.
You may like reading:
Ayurvedic Herbal Weight Gainer Pills
Herbal Weight Gainer Supplements to Increase Body Weight
You May Like…