Whatever we eat gets digested, and the digestive system does that. In this process, the stomach produces various juices like acids, bile, and enzymes that help the food break down so that the essential nutrients could be extracted and utilized somehow. The waste matter is excreted after the completion of this.
The acids also are flushed out. Sometimes these acids are formed in more quantity and do not excrete out as well.
This brings acidity problems in which the person faces difficulties like bloating, burping, heartburn, nausea, vomiting (sometimes bloody), black or bloody stools, etc.
It mainly happens due to eating spicy foods, less physical activity, sleeping just after meals, medicinal side effects, etc.
Ayurvedic Herbal Acidity Treatment
Herbozyme capsules provide highly effective herbal acidity treatment. These ayurvedic capsules consist of ingredients like Hing, Podina, Sat Podina, Ajwain, and Madhur Char that are well known in Ayurveda for bringing back the previous health.
Regular consumption of Herbozyme capsules not only cures acidity but also improves overall digestion. It helps in flushing out the excess acid and prevents its recurrence.
This ayurvedic acidity relief treatment provides long-term advantages, and the person no longer has to face the issue again if he is regular with the course.
The combination of digestive aid herbs in Herbozyme capsules helps relieve gas, indigestion, constipation, hyperacidity, and heartburn.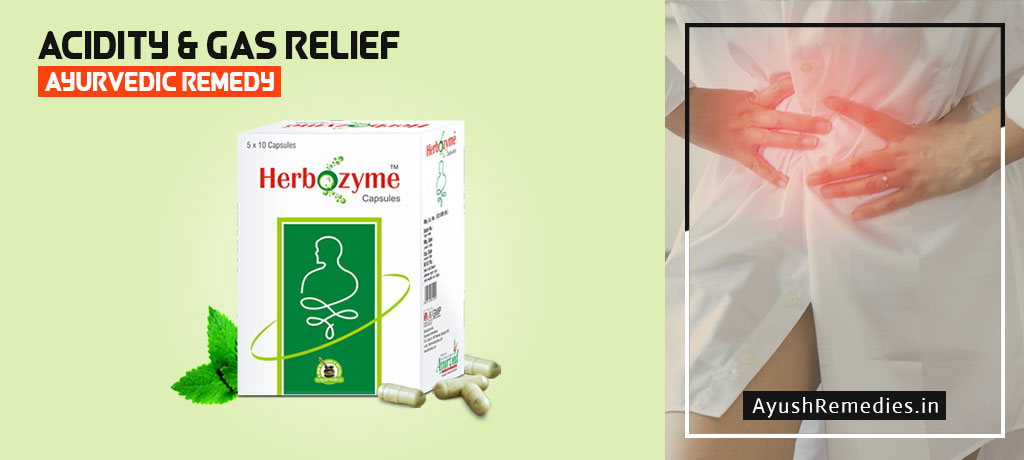 Frequently Asked Questions
Do Herbozyme capsules cause any side effects?
Herbozyme capsules contain only herbal ingredients, and so these never cause any side effects.
Instead, these will drastically improve your health in such a way that the problem won't occur over and over again, unlike other medicines that suppress the symptoms for some days.
How long do I need to take this ayurvedic acidity treatment?
Take this ayurvedic acidity treatment regularly for about 3 to 4 months and get ready to notice dramatic changes in health.
How to consume this herbal acidity treatment?
Take 1 to 2 capsules of Herbozyme with water after breakfast and dinner for the outstanding acidity herbal treatment.
What is the preferred diet for acidity relief?
If acidity persists within you for a long time, you need to take certain steps along with our herbal acidity relief treatment.
Lifestyle changes like exercising, having fruits, vegetables, fresh liquids, water, etc., along with the habit of avoiding spicy foods, alcohol, and coffee, help a lot in recovering the previous health.
How can I buy Herbozyme capsules in India, and from where?
We have two facilities if you want to purchase Herbozyme capsules in India. The first is online money transactions to be done in advance, and the other is Cash on Delivery.
To make a smooth purchase, kindly follow these helpful steps:
Make a pick for the quantity of your package you wish to buy. After that, hit click on the Add to Cart button.
Fill in all billing details regarding your name, address, email, and contact info. Recheck them carefully.
Now, choose any one payment mode for the transaction purposes among – cash on delivery (COD), bank transfer (NEFT), demand draft (DD), or cheque.
Click on the PLACE ORDER button.
Select one of these – SMS or email – to send your details regarding the bank transaction if you have gone for advanced payment mode. After getting the verification that payment is executed, we will soon dispatch your order to you.
How will this acidity relief treatment be received at my house if I order? I want all the details in terms of packaging and delivery. Within how many days will I receive my product?
Since we respect our consumers' concerns about their privacy, we always emphasize maintaining that by packing every product we send discreetly.
The average duration for a customer to get his package falls between 3 to 5 working days.
If you like the post, please pin it!
Popular terms: Buy Herbozyme capsules in India, How to purchase Herbozyme in India, Herbozyme price in Indian rupees