A skinny body is equally a concern, as is an obese body structure. There are a few percentages of people on earth who struggle with gaining weight.
Their body's metabolism is extremely rapid, and whatever they eat always gets consumed in less time. Genetics are responsible for this, and they cannot do anything about it.
Moreover, their appetite is also low, and so they are not fond of eating food. Now to curb all these, we have FitOFat capsules.
They are extensively beneficial herbal weight gain pills that effectively help a person put on healthy muscle mass.
Ayurvedic Herbal Weight Gain Pills
These ayurvedic weight gain pills increase a person's appetite. Regular intake of these capsules nourishes the whole body so that he/ she gets the necessary nutrients. It prevents them from facing any deficiency.
FitOFat capsules bring healthy eating patterns, and the person always eats on time and never skips any meal. The improved digestive system is the key to good health, and therefore the product is worth a try.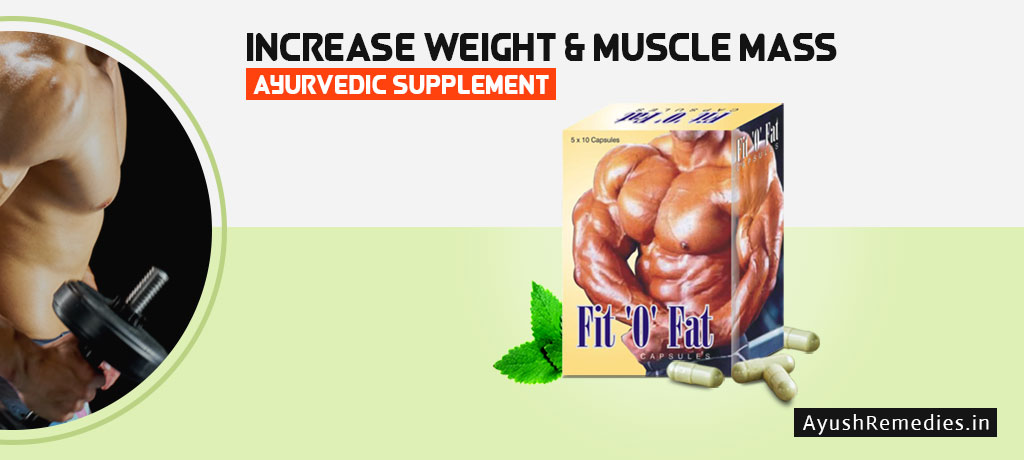 Frequently Asked Questions
Do FitOFat capsules cause any side effects?
Not at all. FitOFat capsules are entirely natural, and that is why these ayurvedic weight gain pills never cause any side effects ever, no matter how long you consume them.
How long do I need to take these herbal weight gain pills?
These herbal weight gain pills need to be taken for at least 3 to 4 months to see remarkable changes in adding muscle mass.
How to consume these ayurvedic weight gain pills?
Take 1 to 2 capsules of FitOFat with water or milk twice a day with a consistency of three to four months.
What is the preferred diet for herbal mass gainer pills?
If you are eager to gain weight, we recommend having a healthy diet to support the procedure. It includes fruits, vegetables, beans, eggs, fish, milk, nuts, dried fruits, etc.
Avoid junk foods; else, you will end up adding unnecessary cellulite. Also, drink plenty of water throughout the day. These kinds of habits maintain proper digestion and increase appetite.
How can I buy FitOFat capsules in India, and from where?
We offer you advance online payment and cash-on-delivery options. For both offline or online transaction, please follow the procedure given below:
Choose the number of packages you want to buy and click the Add to Cart button.
Fill in the billing details that include your name, complete postal address, contact number, and email.
Choose any one of the transaction types – cash on delivery (COD), bank transfer (NEFT), demand draft (DD), or cheque – for payment.
Press the Place Order button.
In case of advanced payment, please send your payment details to us by SMS or email. After confirmation, we will ship your order to you.
How will my product be received at my house if I order? I want all the details in terms of packaging and delivery. Within how many days will I receive my product?
You will get your products with discreet packing within 3 to 5 business days. We respect the customers' concerns about being secretive about this, so we never let them down.
If you like the post, please pin it and share it with others.
Popular terms: Buy FitOFat capsules in India, How to purchase FitOFat in India, FitOFat price in Indian rupees