Rosacea is basically a skin condition where your skin will become inflamed, irritated and red. This skin condition is known to affect people of Celtic ancestry more than anyone else and predominantly manifests itself in people that are fair skinned.
The main causes of rosacea are believed to be skin mites (also known as pityrosporum ovale), genetics and various psychological factors.
Some of the most common symptoms of this skin condition are grittiness of your eyes, red patches on your face, a red bulbous nose, bumps or red pustules on your cheeks, easy flushing or blushing and visible blood vessels on your cheeks and nose.
Now, there are quite a few remedies for rosacea that you could try out but not all of them are as effective as the ones mentioned below. These remedies are very easy to follow and simple to use.
Some of these homemade remedies for rosacea have been in use for a very long time and you will be a fool to ignore them. They have proven to be very effective when it comes to treating rosacea.
So without further ado, let's take a look at a few of the best home remedies for rosacea:
You may like reading:
Home Remedies for Fairness
Home Remedies for Dull Skin
Home Remedies for Rosacea
Sunscreen – Remedy for Rosacea
The first choice as home remedies for rosacea has got to be protecting your face from the harmful effects of the sun. The easiest way for you to do this is with the help of sunscreen lotion.
This will go a long way in protecting your face from the harmful effects of ultraviolet rays and infrared rays from the sun. This, in turn, will make it easier for you to get rid of rosacea.
Chamomile Tea -Remedy to Cure Rosacea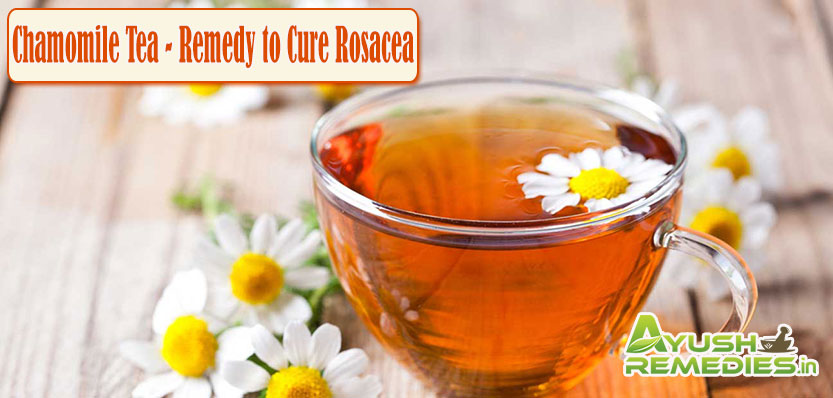 The next option when it comes to home remedies for rosacea is chamomile tea. This has proven to be quite helpful in treating this ailment.
What's more, it even helps give your skin a soothing effect. All you need to do is boil a little water and then add some chamomile flowers in their dried form.
Let this concoction boil for at least 10 minutes before removing it from the stove. Next, you have to strain the mixture so that the leaves are separated from the water.
Let this water then cool down. After this, you need to take a little cotton and dip it into the mixture and let it soak up the water. Take this soaked cotton ball and apply it to all the affected areas.
Fenugreek – Natural Remedy for Rosacea
The third remedy we are going to tell you about as far as home remedies for rosacea are considered is fenugreek tea. This remedy is used all around the world and has proved on numerous occasions that it can really help. So why not give it a shot?
Turmeric – Home Remedy for Rosacea
The sixth choice among natural remedies for rosacea is turmeric. You could try to use this remedy in order to get rid of your problem with ease.
All you need to do as far as this remedy is concerned is to take a little water and mix the turmeric into it in order to make a paste.
Take this paste and apply it all over the affected area. This natural remedy is quite helpful as far as getting rid of rosacea is concerned.
Just remember to never use soap when cleaning the turmeric paste off your face. Plain water is good enough to get rid of it.
Cold Water – Natural Treatment to Get Rid of Rosacea
You should also make a habit out of washing your face using cold water. This is an excellent choice as far as home remedies for rosacea are concerned and will go a long way in helping you reduce inflammation and flushing in your face. It helps simply because it constricts the blood vessels in your face.
Avoid Triggers – to Cure Rosacea
The next thing we are going to talk about can't exactly be considered as home remedies for rosacea but they will definitely help in preventing matters from getting worse. There are certain triggers that make rosacea worse over time.
Avoiding these triggers can help you prevent a lot of pain and suffering in the long run. It is very difficult to compile a comprehensive list of triggers for you to avoid since they are different for everyone.
But some of the most common ones include spicy food, caffeine, chocolates, alcohol, humidity, excessive exercise, stress, heat, etc.
Oregano Oil – Remedy for Rosacea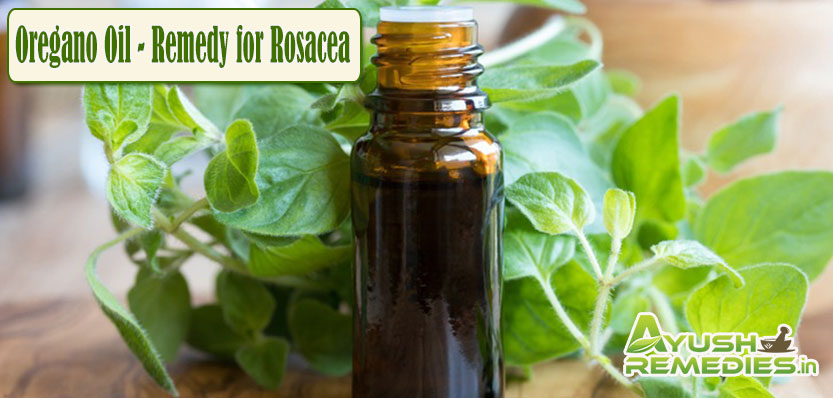 Oregano oil is one of the most effective herbal remedies for rosacea in the world. The main reason for this is because it contains carvacrol which behaves like a natural antiseptic.
You can simply apply this oil on your face directly for the best results. Continue doing this 2-3 times every day if you want excellent results.
There are very few home remedies for rosacea which are more effective than this. So why don't you try it right away?
Recommended reading:
Ayurvedic Medicines to Increase Energy
Ayurvedic Medicines to Increase Immunity
You May Like…