Sunburn is basically a condition where a person's skin gets burnt or parched simply because they have been in the sun for too long. This happens because of the harmful ultraviolet radiation (UV radiation) that is expelled by the sun. When a person is exposed to sunlight excessively over a period of time, they will eventually have to deal with sunburn.
When exposed to the sun consistently for long periods of time, the melanin in your body eventually fails to protect your skin from the harmful rays of the sun and this is when sunburn and other, similar skin damage occurs.
Apart from the sun, you could also have to deal with sunburn if you are exposed to welding arcs or tanning lamps too often as well.
When a person gets sunburnt, the tissue which is in their skin gets damaged and this is why the skin starts looking darker or tanned.
Most signs and symptoms of sunburn are evident within 30-40 minutes of being exposed to the sun. People, who have work that forces them to be in the sun for long hours every day, are more prone to get sunburnt as compared to others.
This is why it is very important for you to know the best home remedies for sunburn out there today.
There is no denying the fact that all of us have been sunburnt at least once in our lives. It may happen on a day that we spent on the beach if nothing else but it would definitely have happened.
You would have noticed how uncomfortable it can be. It is known to make a person's life extremely painful although there are very rare occasions when a person has died because of sunburn.
This situation is known as sun poisoning, but it rarely ever happens, so you have nothing to worry about.
At the same point in time, being exposed to the sun for too long and getting sunburnt frequently can lead to other serious conditions such as skin cancer.
That's why it is best to avoid it with the help of home remedies for sunburn. These home remedies will also help protect you against a number of other symptoms of sunburn such as premature aging of the skin.
Prevention is always better than cure and that is why it is important for people to try and prevent sunburn from occurring as much as possible.
The easiest ways to do this is by using sunscreen lotions or creams, wearing broad brimmed hats or using umbrellas when going out in the sun, wearing sunglasses on your eyes and wearing clothing that is light colored.
But if you haven't done any of this and are already dealing with sunburn then home remedies for sunburn are your best chance at relief.
For more on skincare, check out:
Home Remedies for Fairness
Home Remedies for Dull Skin
Home Remedies for Sunburn
Now, before we look at some of the best home remedies for sunburn it is very important for you to understand all the symptoms of this condition.
After all, if you don't even know you have it, how would you know to use one of these mentioned below right? Some of the most common symptoms include blisters, redness of the skin, irritation, skin peeling, chills, vomiting, dehydration, painful rashes, etc.
If you experience all or any of these symptoms after being in the sun too long, perhaps you should try any of these mentioned below, just in case. Anyway, let's take a look at a few of the best home remedies for sunburn:
Cucumber – Remedy to Getting Rid of Suntan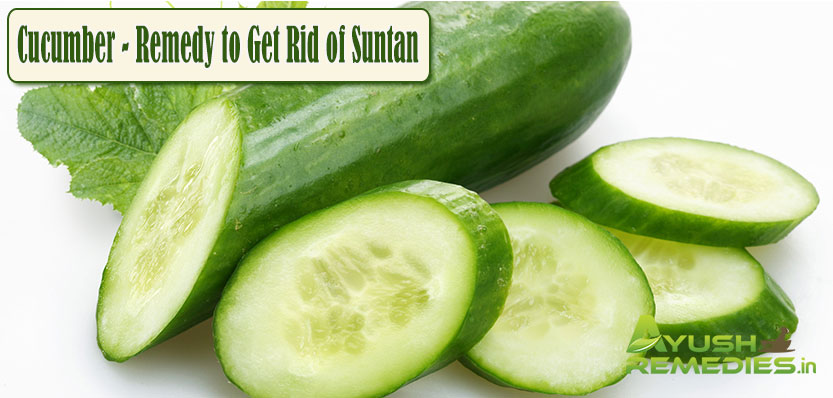 The third among herbal remedies for suntan is a cucumber. That's right, all you need to do is rub some freshly cut cucumber onto the affected areas of your skin. This will have a very soothing effect on your skin.
Aloe Vera – Remedy to Cure Suntan
The most effective remedy when it comes to home remedies for sunburn has got to be aloe vera. Just scoop out gel by cutting aloe vera leaf and apply it on the affected areas.
You could even consider using vinegar as an alternative although aloe vera gel is simply the best. It provides immediate relief from the pain and also helps in reducing inflammation.
Mustard Oil- Home Remedy to Cure Sunburn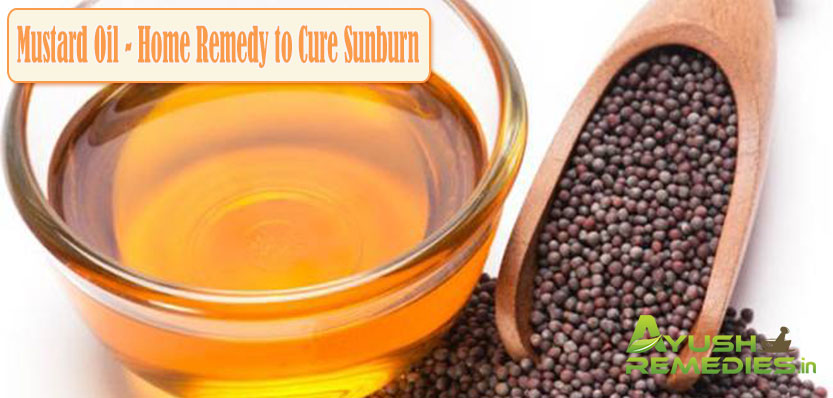 The next option when it comes to natural home remedies for sunburn is mustard oil. You can simply rub a little mustard oil on the affected areas and then leave it to dry. This will help in removing the heat from the areas which have been burnt.
Baking Soda – Natural Remedy for Sunburn Conditions
Baking soda is yet another of the effective natural remedies for sunburn conditions. Simply add a little baking soda (sodium bicarbonate) to water and make a fine paste. Apply this paste over the sunburnt areas and you will get a lot of relief from the pain.
Lavender or Peppermint Oil – Remedy to Cure Sunburn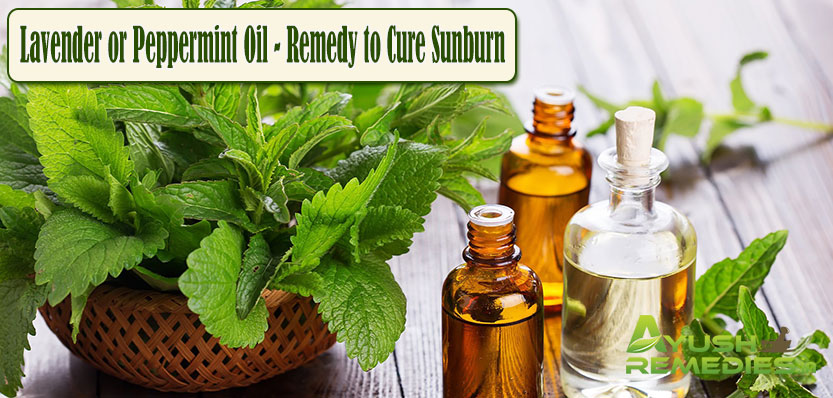 The next one of the best herbal remedies for sunburnt skin is lavender or peppermint oil. Both these oils can really help you get rid of your burnt skin and will definitely yield excellent results in the long run.
Ice – Remedy to Treat Skin Sunburn
And lastly, you can use a simple ice compress to get immediate relief. This is probably one of the easiest home remedies for sunburn out there.
Just follow above mentioned homemade remedies for sunburn and tan removal and get instant relief from the pain and damaged the skin.
You may like reading:
Best Home Remedies for Sensitive Skin
Home Remedies for Dull Skin
You May Like…