Dry skin is a problem that a lot of people may have to deal with at some point of the year. It is simply unavoidable. Dry skin is a major health problem for anyone who is forced to deal with it. It can also be quite uncomfortable. There are quite a few ways of recognizing this problem.
Your skin might just look dry or it may feel a little tight around the affected areas. You may find it flaking in some parts. In severe cases, you may even find it itching terribly to a point where it cracks open and starts bleeding.
None of these things are pleasant and the chances of an infection sinking in are always high if you don't care about your skin properly.
But of all the places of your body, it is your hands that are most susceptible to cracked skin. This is because they are the most used part of your body.
Just think about it, you use your hands for everything, right? So isn't it obvious that they will get damaged the most? This is where home remedies for dry cracked hands come into the picture.
Before we start looking at home remedies for dry cracked hands, let's take a look at why this happens. There are a number of things that could cause dry cracked hands.
You could be suffering from some sort of skin condition like psoriasis, dermatitis or eczema. The cause may even be environmental. Dry skin tends to develop during cold, winter months more than in summer.
This is because of a lack of moisture in the air. This also happens in peak summer months. But don't make the mistake of thinking that the climate is the only cause of dry skin. Sometimes, this problem can be glandular as well.
An unhealthy diet may also cause a lot of trouble. Drinking sufficient water and eating lots of fruits is very important if you want to remain healthy.
Having a healthy diet is the only way in which you can promote a healthy body. But even when you have a healthy diet, your body may still have some dry skin. That's why you need to know the best herbal remedies for cracked hands.
Now there are many commercial products available for dry cracked hands but none of them work even half as well as home remedies for dry cracked hands.
That's why, in this article, we are going to share a few of the best homemade remedies for dry hands to get rid of dry cracked hands with you:
For more on skin care, check out:
Home Remedies for Fairness
Excellent Home Remedies for Dry Skin
Home Remedies for Dry Cracked Hands
Herbal Balm – Natural Remedy for Dry Cracked Hands
The first option as far as home remedies for dry cracked hands are concerned is a sort of balm for dry skin. To make this balm you will need some cocoa butter, shea butter, mango butter, virgin coconut oil and essential oil as per your choice.
You need to put all the butter together and melt them first in a boiler. After this, you have to remove the boiler from the heat and add the essential oil you chose into the mix.
Remember to mix it well before pouring it into a jar to store. Apply it on your dry skin regularly for the best results.
Aloe Vera Gel – Remedy for Dry Cracked Hands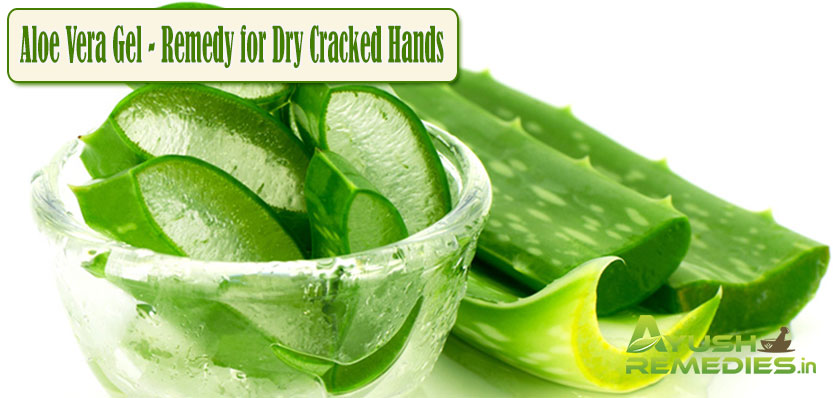 The next excellent choice as natural home remedies for dry cracked hands involves aloe vera. It is very versatile and is known to help fight a lot of skin related problems.
One of the biggest assets of aloe vera gel as natural remedies for dry cracked hands is that it can help you with is dry skin.
Healing Salve – Treatment to Cure Dry Cracked Hands
The next popular choice when it comes to home remedies for dry cracked hands is something known as a healing salve. This is meant especially for people suffering from cracked hands or feet.
You will need some beeswax, calendula infused olive oil, plantain infused olive oil, vitamin E, pine needle essential oil, chamomile essential oil, lavender essential oil and, tea tree essential oil.
You first have to melt all the olive oils with the beeswax on low heat. Once they have all melted, take it off the heat and stir the Vitamin E and essential oils into the mixture.
Pour this mixture into a container for storage and let it cool down completely before sealing. Then you just need to apply it to your cracked hands or feet on a daily basis for best results.
Paraffin Wax – remedy for Dry Cracked Hands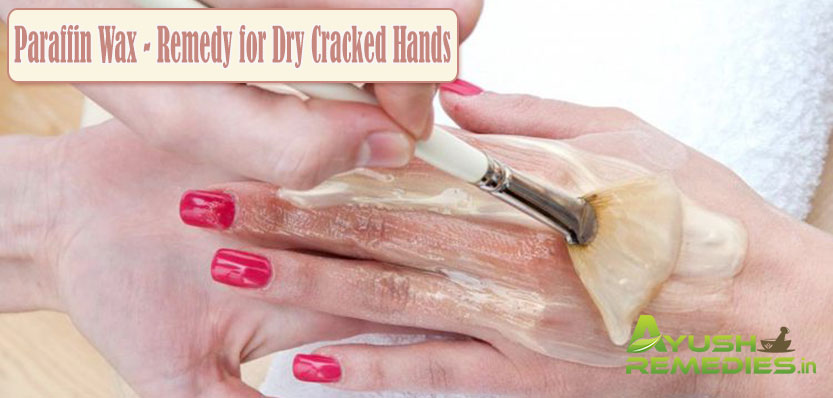 Paraffin wax is another great one of the home remedies for dry cracked hands when it comes to dealing with dry cracked hands.
Once you try this remedy, you will forget about everything else and want to stick with it no matter what. The heat which is associated with this treatment is ideal for anyone who is suffering from joint pain or arthritis as well. That's like solving two problems with one go.
So what are you waiting for? Choose any of these home remedies for dry cracked hands and fix your problem right away.
You may like reading:
8 Home Remedies for Dull Skin
Home Remedies for Dull Skin
You May Like…