If you've been suffering from acne for a long time then perhaps it's time you started considering some home remedies for acne. There is a lot of useful information available on the internet with regard to acne but none of this information is as helpful as these home remedies.
And the best part about these home remedies is that you can do all of them right from the comfort of your home with regular things that you would find around your house. So without further ado, let's take a look at a few of the best remedies out there today:
Home Remedies for Acne
Change Pillowcases Each Night – To prevent Acne
The first thing that you have to do is to ensure you change your pillowcases each night. This will help in preventing the build-up of oil on your pillowcases and thus your face. It is one of the best natural home remedies for acne so far as it is a great preventive method.
Aloe Vera – Remedy to Cure Acne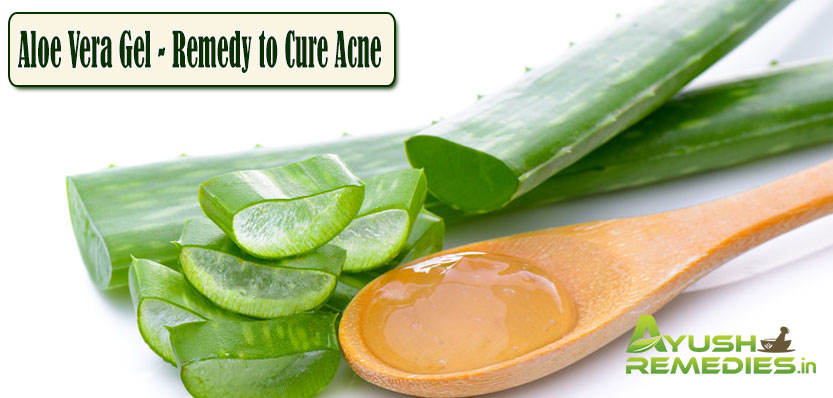 You could also consider aloe vera to help you get rid of acne as it is a brilliant choice when it comes to home remedies for acne. It can be quite effective no matter what stage the problem is currently at.
All you have to do is take a little bit of aloe vera gel and put it on the troubled areas. This rejuvenating gel can easily be removed from the aloe vera plant with the help of a fork or a knife.
For more on skincare, check out:
Home Remedies for Pimples, Acne
Ayurvedic Medicines for Pimples, Acne
Hair Products -Remedy for Pimples
The next natural remedy when it comes to home remedies for acne is to ensure your hair and your hair products steer clear of your face. This is a great way for you to prevent oils from manifesting on your body.
Limit Intake of Dairy Products – to Prevent Acne or Pimples
You should also limit the amount of milk and other dairy products that you are consuming on a regular basis. This will work as quite an effective remedy when it comes to home remedies for acne.
And if you are someone who is a heavy milk drinker then you should stick to half your usual intake.
White Toothpaste – Remedy to Cure Acne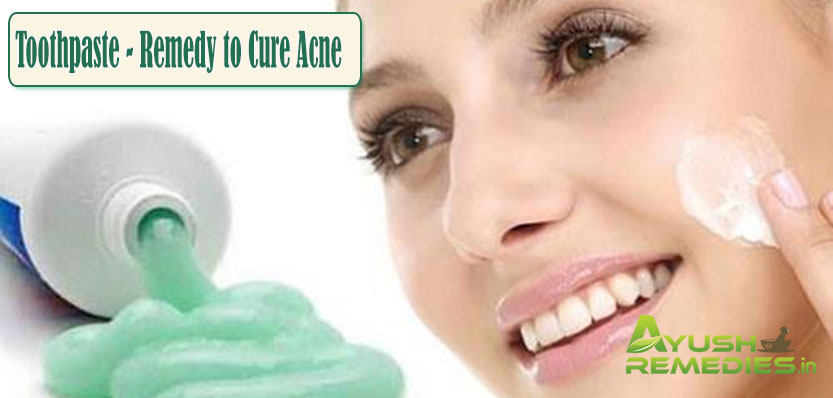 Putting white toothpaste on your acne is another great way to get rid of them as far as natural remedies for acne are concerned. Just remember to never use a gel-based toothpaste.
You shouldn't use too much toothpaste too frequently either as it can start causing irritation then. And don't leave it on for too long after the sensation or it will cause blemishes on your skin.
Reduce Stress – to Remove acne and Pimples
You need to understand that stress is a very natural process. Anyone, who does anything today, is going to have to go through stress sooner or later in life.
When you reduce the amount of stress you are undergoing, it will have a positive effect on your pimples and blemishes. You could find outlets for your stress if it helps.
You shouldn't eat any sweet, fatty or oily food if you want to get rid of your pimples and blemishes as well.
Avoid any Infection – To Get Rid of Acne
You should keep your hands away from your face as much as you possibly can to avoid any infections or their spread. Doing this frequently will surely help you get rid of acne.
Honey Mask – Herbal Treatment for Acne
If you have sensitive skin and are still suffering from blemishes then maybe you could try using a honey mask twice every week.
This is the best herbal treatment for acne and pimples and will be quite gentle on your skin and as compared to the toothpaste application mentioned above.
Working Out – Important for Prevent Acne
People that do not exercise sufficiently are also prone to getting more pimples. You should try at least working out moderately twice or thrice a week.
This will certainly help fight acne. Even running or walking can help you quite a lot. So, consider this method on your list of home remedies for acne as important.
Tea Tree Oil – Natural Remedy for Acne
And finally, among herbal remedies for acne and pimples, you could consider trying tea tree oil. It has helped to repair the bad skin for quite a lot of people already. It is probably the best tip for you.
Eat Variety of Carrots – to Prevent Acne and Pimples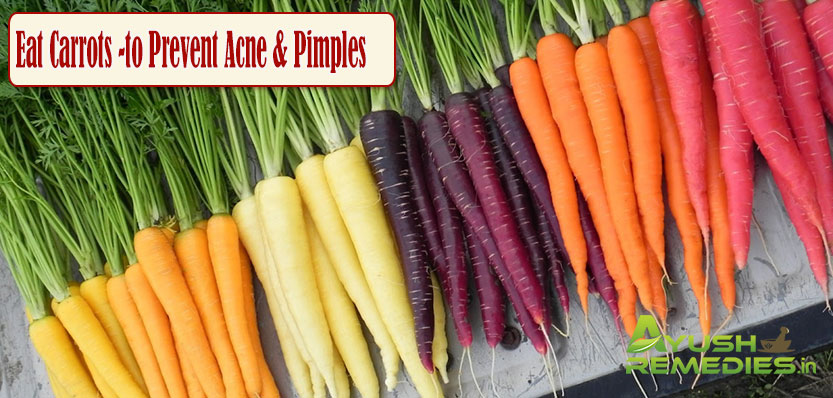 One vegetable that has a high source of vitamin A and can really help you get rid of your blemishes are carrots.
The nutrients present in carrots are known to repair blemishes and acne as good as any other homemade remedies for acne on this list. You can eat any variety of carrots without worrying about preventing acne.
Prevent Oils on Face – To Cure Acne
You can also prevent oils on your face by simply sleeping on your back. This is another great option as far as home remedies for acne are concerned.
Avoid Tanning – to Get Rid of Acne
If you tan your skin too often then it will only lead to the formation of acne on your face because of the oil present on your skin. This is why you should try and avoid tanning as much as possible.
Sunblock is the best way for you to stop tanning from being a problem for you. Hence, you can count sunscreen as potent natural remedies for acne.
You may like reading:
Home Remedies for Acne Free Skin
Ayurvedic Treatment for Acne
You May Like…