There are a lot of people who have sensitive skin. Most of the people suffering from this problem also suffer from another problem as well i.e. chapped lips. This has not only caused a lot of difficulty at times but has also made their entire life much more difficult. Suffering because of chapped lips can be quite a heavy burden to have to deal with.
There are times when people are so reliant on their lip balms and other cosmetics that they don't even know how bad the underlying problem really is.
These products are not giving them proper results yet they continue using them simply because they have never heard of home remedies for chapped lips.
Even if you want to stick to lip balms and are not interested in natural remedies, you should understand that you need only stick to products that are organically produced.
When you go for other cosmetics, they may give you immediate results, but the side effects are not worth the trouble one bit.
That's why it is always better to go for home remedies for chapped lips instead. When you do away with these harmful products, you will not only be fixing your lips but will also be ensuring they don't trouble you in the future.
If you notice any kind of fissures or infection on your skin you should start using one of the below-mentioned home remedies right away.
These problems aren't only troubling for you but may just be contagious as well. You wouldn't want to unnecessarily infect others as well right?
Home Remedies for Chapped Lips
Now, before we start looking at the best home remedies for chapped lips, let's take a look at a few of the main causes of chapped lips.
It basically occurs because of a lack of moisture in your lips. This is what gives them the appearance of being sore, dry, flaky or cracked.
They can be quite embarrassing for some people and can make it really uncomfortable or painful for them to get through even simple activities such as smiling, talking or eating.
Some symptoms that are usually associated with chapped lips are redness, pain, splitting, dryness, sensitivity, peeling, cracking and tenderness.
Luckily for you though, there are enough home remedies for chapped lips that you can try that you will not have to worry about this problem anymore in the future. Let's take a look at some of them now:
You may like reading:
Best Home Remedies for Sensitive Skin
Home Remedies for Skin Care
Rose Petals – Remedy to Cure Chapped Lips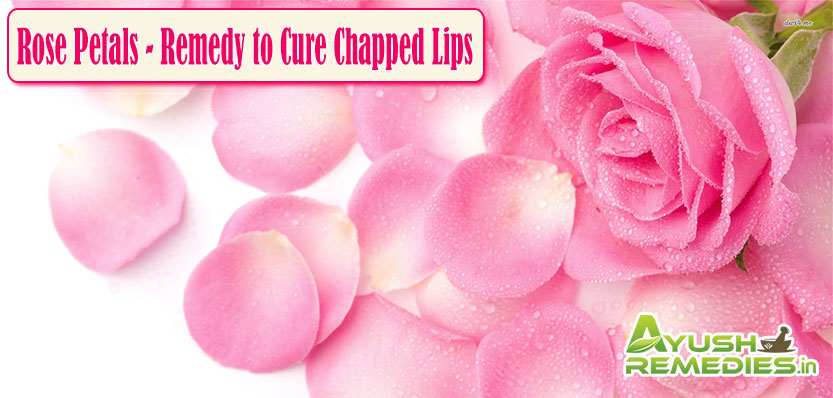 The first and one of the most effective herbal remedies for chapped lips are rose petals. You just have to take a few of them and let them soak in water overnight.
Once they are fully soaked, take them out and blend them into a paste. Put this paste onto your lips and let it stay for around 20 minutes. Then just simply wash it off. You will see results in no time.
Coconut Oil – Natural Treatment for Chapped Lips
The next choice when it comes to home remedies for chapped lips has got to be coconut oil. It is considered an excellent natural remedy for chapped lips.
All you have to do is put a little coconut oil on your lips regularly. This will help provide your lips with the moisture it needs since coconut oil is a great natural moisturizer.
Water – Natural Remedy for Prevent Chapped Lips
The third option as far as natural home remedies for chapped lips are concerned is water. That's right, plain and simple water.
Drinking a lot of water is a great way for you to prevent your lips from chapping. All you have to do is keep them hydrated and you will never have to worry about these problems. Moisturizing your lips this way is the easiest remedy on this list.
Neem Leaves – Remedy for Chapped Lips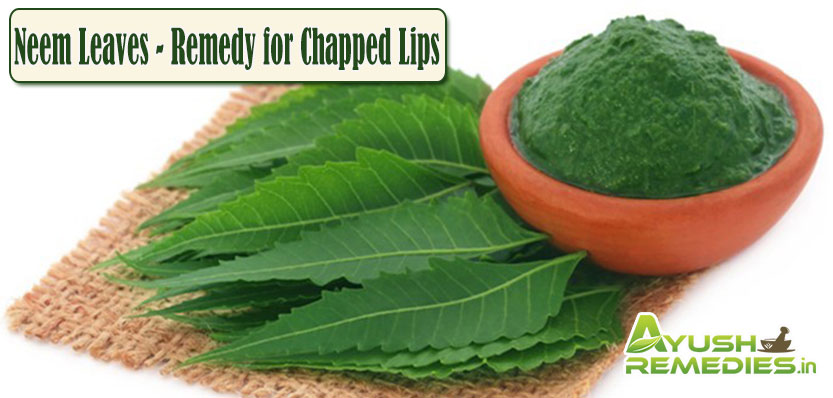 Neem leaves are also counted as excellent herbal remedies for chapped lips as well. You can make a paste out of them and then apply it on your lips.
Honey and Vaseline – Remedy to Get Rid of Chapped lips
The next option for anyone looking for home remedies for chapped lips involves a mixture of honey and Vaseline. Take this mixture and put it on your lips and leave it for 15 minutes or so.
After this, take a cotton ball that has been soaked in warm water and use it to remove the paste that you put on your lips.
Vitamin A – Natural Treatment to Treat Chapped Lips
The next on the list of natural remedies for chapped lips is vitamin A. It is really helpful as far as skin repair is concerned and can help with chapped lips as well.
All you have to do is ensure your diet consists of enough vitamin A and you won't have any trouble. Some of the best foods you can eat include carrots, legumes, tomatoes, whole grains, and most green leafy vegetables.
Milk Cream – Home Remedy for Chapped Lips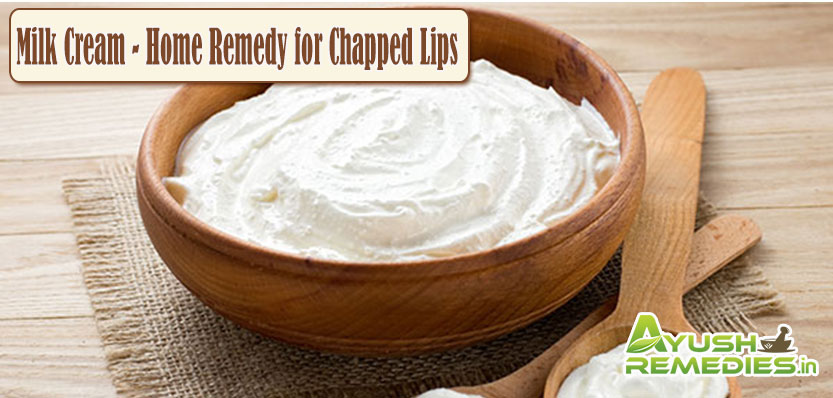 And lastly, you could consider using milk cream which proves as outstanding homemade remedies for chapped lips.
You will have to apply this before sleeping in the night regularly for the best results. This will not only help in getting rid of your chapped lips but will also remove any dead skin cells on your lips.
Try these amazing home remedies for chapped lips and feel free to smile beautifully!
You may like reading:
Home Remedies for Fairness
Home Remedies for Dull Skin
You May Like…