If you want to improve vision naturally, go for herbal I-Lite capsules for weak eyesight that naturally work well and are suitable for men and women of any age.
There are numerous reasons behind weak eyesight, such as watching TV too much, reading in very dim or very bright light, working on computers the whole day, sleeplessness, waking up later at night, genetic factors, etc.
Moreover, if a person doesn't follow healthy habits like eating nutrient-rich foods, then he is likely to get trapped in such a situation where finding a permanent solution seems impossible.
Many individuals opt for laser therapy to get back their sharp vision, which is quite risky since it is not a 100% effective method and may lead to permanent blindness.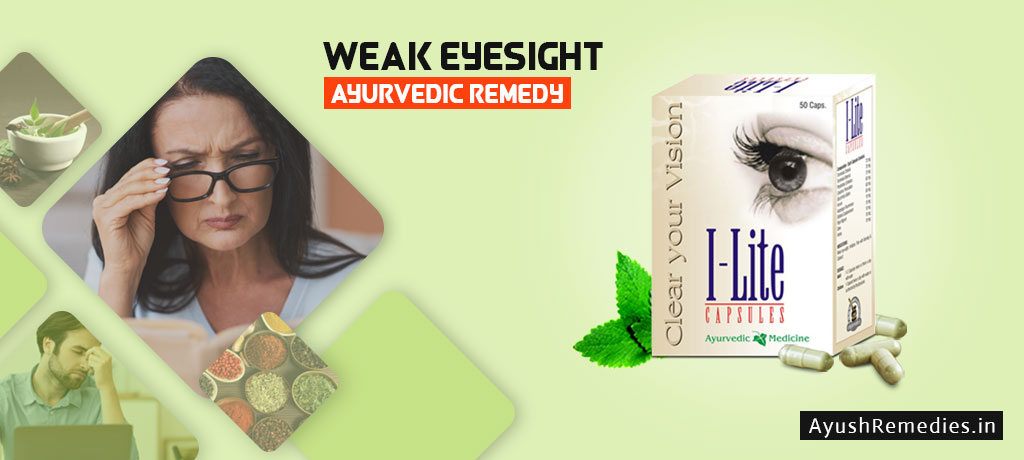 Ayurvedic Herbal Treatment for Weak Eyesight
I-Lite capsules provide the best ayurvedic herbal treatment for weak eyesight since it is not a risky remedy.
Those who have poor vision and those who want to maintain their eye health for the long term may also choose this as a regular supplement.
Herbal I-Lite capsules for weak eyesight can also curb other issues like farsightedness, nearsightedness, refractive errors, astigmatism, and refractive errors.
Hence, if you seriously want to improve your vision, these supplements would prove efficient methods beyond your imagination.
Frequently Asked Questions
Do herbal I-Lite capsules cause any side effects?
Since we haven't used any artificial ingredients to make I-Lite, these capsules cannot generate side effects.
Though not mandatory, you are still free to take the pills for the rest of your life without facing any consequences. Moreover, they never make anyone addicted, so one does not experience the symptoms of withdrawal effect.
How long do I need to take this ayurvedic herbal treatment for weak eyesight?
You can consume herbal I-Lite capsules for weak eyesight for a longer period of life, but on average, it takes about 3 to 4 months for a person to notice drastic changes.
These capsules do not cause any side effects, so if you want to take I-Lite to maintain eye health, it is alright.
You are free to stop the course whenever you feel like, after the recommended duration, it's all about your choice.
How to consume herbal I-Lite capsules for weak eyesight?
Take 1 to 2 capsules of I-Lite 2 times daily with milk or plain water to improve vision naturally. Be regular with the course for about 12 to 16 weeks.
What is the preferred diet to improve vision naturally?
Having foods rich in vitamin A would be an ideal choice to support the treatment. That is mainly in fruits and vegetables.
If you have a lack of availability, then don't worry; I-Lite capsules alone can effectively accomplish their task as well. These pills provide nutrition and naturally improve eye health.
How can I buy I-Lite capsules in India, and from where?
We have either an online payment or a Cash on Delivery option for our Indian customers to buy I-Lite capsules in India. So follow the steps that we have mentioned:
Pick the product's quantity from the drop-down menu and click on the BUY NOW button.
Fill up all your billing details such as name, postal address, email, and contact no.
Choose the most convenient payment mode: cash on delivery, bank transfer (NEFT), demand draft (DD), or cheque.
Click on the PLACE ORDER button.
Please send us an email or SMS your bank transaction or payment information (in case of advanced payment modes like DD, NEFT, or cheque). The moment we receive the bank's verification, we soon dispatch the parcels to the respective destinations.
How will my product be received at my house if I order? I want all the details in terms of packaging and delivery. Within how many days will I receive my product?
We pack all the products in discreet packaging and send them to our consumers, ensuring that their privacy would be kept maintained throughout the transmission process. The customers get the delivery between three-five business days.
If you like the post, please pin it and share it with others.
Popular terms: Buy I-Lite capsules in India, How to purchase I-Lite in India, I-Lite price in Indian rupees