Diabetes or diabetes mellitus is a health condition in which the person's body produces insulin in less quantity or not at all.
It results in the piling up of sugar in the bloodstream, thereby having failed attempts for that sugar (glucose) to make it reach the other bodily cells for energy production.
Diabetes is a hard-to-cure disorder, but one could follow certain attempts to manage it not to go uncontrollable. If it does, there is a huge threat that can snatch one's life.
To handle this or maintain its intensity, one could take ayurvedic treatment for diabetes management like Diabgon capsules.
Regular intake of this herbal treatment for diabetes management produces sound results, so it never threatens anybody.
Ayurvedic Herbal Treatment for Diabetes Management
This ayurvedic treatment manages diabetes and deals with its related consequences such as frequent thirst, frequent urination, and hunger, even while eating food, giddiness, weakness, vision issues, etc.
It all became possible due to the existence of herbal-based ingredients that are known for their functioning for decades.
This herbal treatment thus provides a great benefit when it comes to naturally managing diabetes.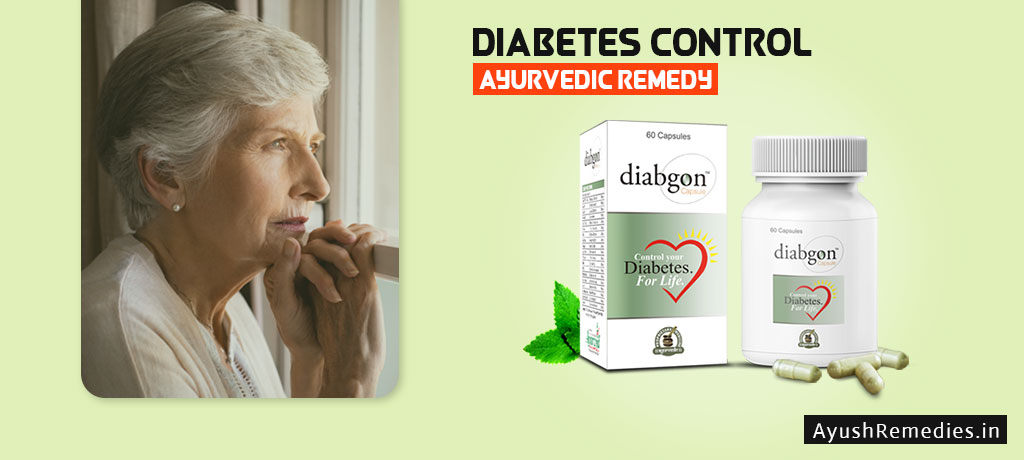 Frequently Asked Questions
Do Diabgon capsules cause any side effects?
Diabgon capsules do not cause any side effects, all due to the presence of herbal ingredients. You are free to stop the course without facing any withdrawal effects once you realize that this ayurvedic treatment for diabetes has very well managed your problem.
Moreover, you can take these capsules with other medications prescribed to you, and you still won't be experiencing any consequences.
How long do I need to take this herbal treatment for diabetes management?
We suggest you having this herbal treatment for diabetes management for about three to four months to get good results. If you notice it sooner, you are free to decide whether or not you need to continue it.
Your body might also respond slower and show results within five or six months, but one thing is sure that the outcomes will always be positive.
How to consume this ayurvedic treatment for diabetes management?
Take 1 to 2 capsules of Diabgon two times daily, after breakfast and after dinner, regularly for three to four months to obtain a good result.
What is the preferred diet for diabetes management?
Focus on the course that needs a routine; else, there is no special diet for this. Avoiding junk foods and sweet treats are habits you must be aware of for a long time, which is what to be kept in mind.
How can I buy Diabgon capsules in India, and from where?
We have preferred facilitating the online transaction and cash on delivery for our products if you want to buy Diabgon capsules in India. Kindly follow these steps:
Attempt choosing the quantity of your package and select the Add to Cart button.
Now fill up all the billing details such as your name, postal address, email, and contact number carefully.
Opt for any one choice from – bank transfer (NEFT), demand draft (DD), cheque, or cash on delivery – for further payment procedure.
Hit click on the Place Order button next.
Send an SMS or e-mail to us to let us know about your bank transaction details, and this step is only applicable for those who have opted for advanced payment modes like DD, bank transfer, or DD.
How will Diabgon be received at my house if I order? Within how many days will I receive these pills?
We always discreetly wrap the products so that no one is allowed to know the inside contents. The process is followed throughout until you obtain your parcel. It takes about three-five business days for our customers to get the product.
Please pin the image below. Remember, Sharing is Caring!
Popular terms: Buy Diabgon capsules in India, How to purchase Diabgon in India, Diabgon price in Indian rupees