FitOFat capsules are the best herbal weight gainer pills that naturally help put on healthy mass so that a person permanently gets rid of his/ her skinny body.
These ayurvedic weight gainer supplements consist of plant-based herbal extracts blended in the appropriate ratio to give positive results within a few weeks.
Ayurvedic Herbal Weight Gainer Pills
Certain ingredients like Kavach Beej Bek, Ashwagandha, Shatavari, Safed Musli, etc., are renowned herbs that make FitOFat capsules highly beneficial herbal weight gainer pills that suit everyone.
Regular intake of these ayurvedic weight gainer supplements for a few months provides a healthy body mass approach.
Not only this, these capsules never ask for compromises in terms of energy levels and stamina since whoever uses it never experiences any. Let us now reveal the whole list of ingredients of these capsules.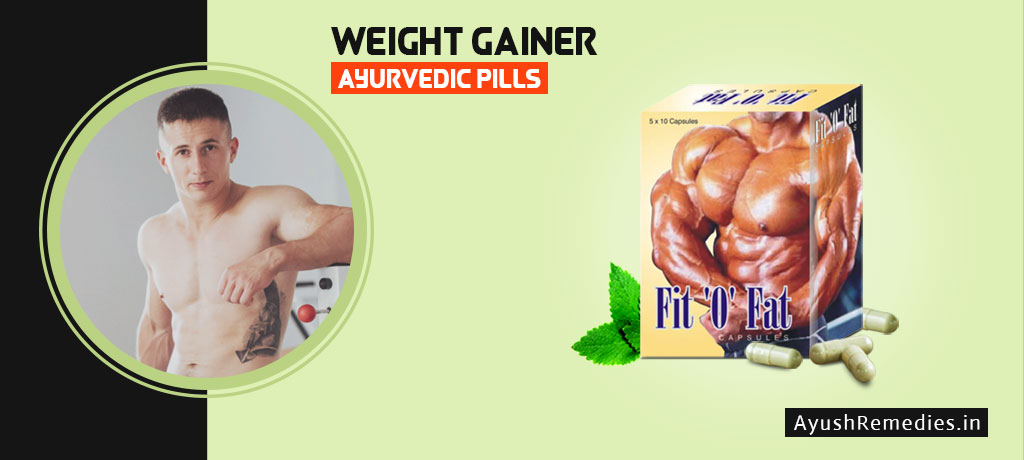 Frequently Asked Questions
Do FitOFat capsules cause any side effects?
The presence of herbs in the making of FitOFat ensures that no one would ever experience any side effects. Even if you take it for a longer duration or follow other medicines in parallel, your body won't react negatively.
How long do I need to take these herbal weight gainer pills?
You need to take these pills for nearly about 3 to 4 months. The individual experiences still vary. Your body may show the outcomes earlier than we mentioned, or it might take even longer than you expect. But once you notice the results, that will be permanent for sure.
How to use these ayurvedic weight gainer supplements?
Take one or two FitOFat capsules twice every day consistently for about three to four months to notice significant outcomes. The results may vary as per your current health condition.
It might take less or more than the time we have mentioned. Once you observe the result, you are assured of it being in a permanent state.
What is the preferred diet during these ayurvedic weight gainer supplements?
If you seriously want to put on a healthy weight, you need to be careful about your diet. Try including foods rich in protein, calcium, omega-3 fatty acids, and carbohydrates in sufficient quantity.
Beans, dried fruits and nuts, dairy, eggs, fish, leafy greens, avocados, berries, etc., would be ideal for you. We also recommend you set a routine of exercise.
We here do not mean that you would never receive any outcomes if you don't follow a strict lifestyle. The thing is, this kind of habit brings results sooner, and you won't get trapped into boredom since everyone wants the results rapidly.
How can I buy FitOFat capsules in India, and from where?
You are free to buy FitOFat capsules in India via options of cash on delivery, cheque, demand draft (DD), or bank transfer (NEFT). For our Indian customers, we always keep special offers and discounts.
First and foremost, select your package's quantity from the drop-down menu and click the Add to Cart button.
Please fill up all essential billing details such as name, address, email, and contact number and double-check them thoroughly.
Next, you need to select the mode you will pay among- cash on delivery, cheque, demand draft, or bank transfer.
Click on the PLACE ORDER button right after it. Finally, please send an email or SMS to us regarding your bank transaction info in case of advanced modes like DD, NEFT, or cheque.
How will these herbal weight gainer pills be received at my house if I order? How many days does it take to obtain any product?
We will parcel your product confidentially with no visible information, and we would maintain that throughout the supply till you receive it at your house.
After all, we admire your privacy. In India, you are free to get your order anywhere within 3 to 5 working days.
If you like the post, please pin it and share it with others.
Popular terms: FitOFat price in Indian rupees, How to purchase FitOFat in India, Buy FitOFat capsules in India