If you want any effective herbal pain relief oil for arthritis, then Rumacure oil is for you. This ayurvedic oil for gathiya is a successful remedy for curbing pain, osteoarthritis, rheumatoid arthritis, gout, fractures, surgeries, etc.
The external application of this ayurvedic pain relief oil for arthritis provides immense aid to individuals who use it irrespective of his/ her age.
It could be made possible because of herbal ingredients like Tarpin oil, Gandhpurna oil, Kapur oil, Dalchini oil, etc. All these are well known for curbing muscular and joint aches or pains for centuries.
Herbal Pain Relief Oil for Arthritis Gathiya
This herbal pain relief oil is made under the guidance of ayurvedic experts who have years of knowledge and experience in this regard, without whom we couldn't find out the immensely effective formula.
Every herbal component used in the making of this ayurvedic oil for gathiya is timely tested and blended. It, therefore, ensures that the person will get outstanding advantages in no time.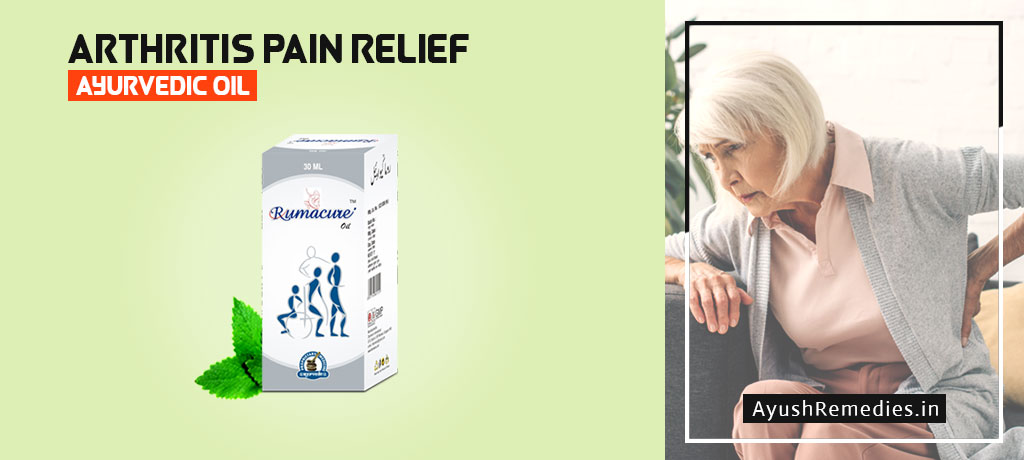 Frequently Asked Questions
Does ayurvedic Rumacure oil for gathiya cause any side effects?
No, it doesn't. Rumacure oil is designed in a time-tested manner under ayurvedic doctors' supervision, assuring total safety while using it.
How long do I need to take this herbal pain relief oil for arthritis?
You have to be regular for around 3 or 4 months, so observe noticeable changes within. You are free to use it for more duration without worry. It works even if the problem is chronic.
How to use this ayurvedic oil for gathiya?
Shake the bottle well before use. Take about 3 to 5 ml of this oil and gently massage over the affected areas for a few minutes till it gets absorbed.
Repeat the same twice or thrice a day. Avoid sitting directly under the fan for the initial 15 to 20 minutes.
What is the preferred diet while using this herbal pain relief oil?
No one requires any specific diet while using this herbal oil for massage.
How can I buy Rumacure oil in India, and from where?
We have the option of advance online payment and cash on delivery. If you want to purchase Rumacure oil, follow these simple instructions:
Choose the desired product quantity from the drop-down menu and click on the Add to Cart button.
Fill up all details of the billing, such as name, postal address, email, along with your contact number.
Make a selection among bank transfer (NEFT), cash on delivery, demand draft (DD), or cheque, from which you could do the money transaction.
Now hit click on the PLACE ORDER button.
This final step is applicable for only those who have selected advanced payment modes like DD, NEFT, or cheque. It asks for your bank transaction details through email or SMS that you will be sending us.
How will my product be received at my house if I order? I want all the details in terms of packaging and delivery. Within how many days will I receive my product?
We believe in discreet packaging, and so every product that we transmit to the respective addresses is always packed on a plain wrapper so that nothing is visible from the outside.
We respect your concerns about being secretive, and that is why we emphasize this a lot. You will receive your product within about 3 to 5 business days.
Please pin the image below. Remember, Sharing is Caring!
Popular terms: Rumacure price in Indian rupees, How to purchase Rumacure in India, Buy Rumacure oil in India