Iron deficiency anemia is when a person does not have enough red blood cells to carry oxygen. It happens because the person's body does not make enough red blood cells, or the body destroys RBCs, or he/ she faces excessive bleeding.
Blood loss makes them weak, tired, pale, etc. They also likely experience shortness of breath, irregular or fast heartbeat, headaches, chest pain, and cold hands and feet.
Though there are many forms of anemia, iron deficiency anemia is the most common one. There are mild to severe and temporary to long-term kinds of blood loss.
Ayurvedic Treatment for Iron Deficiency Anemia
Feroplex capsules are there to rectify this complication as a great natural cure for blood loss.
This ayurvedic treatment for iron deficiency anemia contains plant-based herbs in their unrefined form so that their regular intake naturally increases a person's blood count. Ingredients like Ferrum,
Ferri Sulphas and Ferri Peroxidum are different forms of iron mineral, and the body readily absorbs them to make the best benefits out of them.
These also curb the symptoms of anemia like weakness, shortness of breath, chest pain, headaches, etc.
This ayurvedic treatment for iron deficiency anemia is a great help for women with iron deficiency due to heavy blood flow during their menstrual periods.
So, overall Feroplex capsules are remarkable ayurvedic supplements to cure blood loss naturally.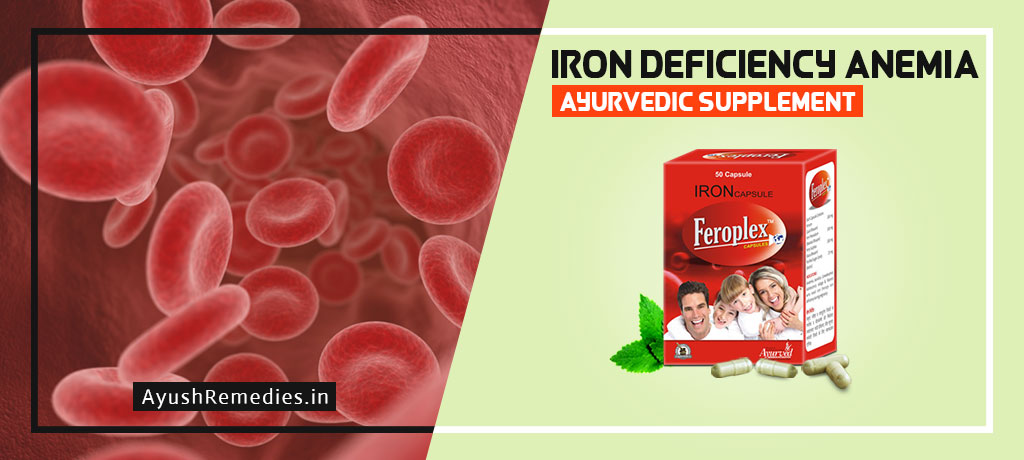 Frequently Asked Questions
Do Feroplex capsules cause any side effects?
No, Feroplex capsules are safe to use and do not cause ill effects even if you plan to consume them for more than a suggested time.
How long do I need to take these capsules for iron deficiency anemia?
We usually advise taking these capsules for iron deficiency anemia for about three or four months, and the rest depends on you if your body copes up in that duration or not. It could also take lesser months than expected.
How to consume this ayurvedic remedy for blood loss?
Take 1 or 2 Feroplex capsules with water two times a day after breakfast and dinner. The number of pills depends on your hemoglobin count. If you are severely suffering, then two capsules would be ideal.
What is the preferred diet for iron deficiency anemia?
Have iron-rich foods along with the course of this ayurvedic treatment for iron deficiency anemia. Leafy greens like watercress, spinach, baby spinach, etc., are ideal in this regard. Such habits fasten the process.
How can I buy Feroplex capsules in India, and from where?
You can buy Feroplex capsules in India easily. We have an online transaction method and Cash on Delivery as well. For smooth purchase, please follow the process given below:
Select the package quantity from the drop-down menu and then click on the Add to Cart button.
Fill up all the required information in the billing details section, like your name, postal address, email, and contact number.
Choose among these – bank transfer (NEFT), demand draft (DD), cash on delivery, or cheque – as your payment procedure.
Click on the PLACE ORDER button.
Now send us your bank payment details to our email or SMS. If you have selected an advanced payment option after getting confirmed, we will dispatch your products to you.
How will Feroplex be received at my house if I order? Within how many days will I receive these ayurvedic iron capsules?
We discreetly pack the products to maintain our consumers' privacy and strictly followed this method for all the customers.
You will probably obtain your parcel in 3 to 5 working days.
Please pin the image below. Remember, Sharing is Caring!
Popular terms: Feroplex price in Indian rupees, How to purchase Feroplex in India, Buy Feroplex capsules in India