If you are searching for a genuine ayurvedic massage oil for arthritis joint pain and backache, then you are in the right place. We serve Orthoxil Plus oil for remedying the problem of joint pain and backache, no matter if it is temporary or chronic.
Arthritis is a serious issue, and aches at the joints and muscles seem minor and neglected. Still, it can hamper a person's life and make him highly miserable if he doesn't get any treatment.
Ayurvedic Herbal Massage Oil for Arthritis Joint Pain
Orthoxil Plus oil would greatly help if an individual regularly massages with it on the affected areas.
This herbal massage oil for arthritis joint pain and backache consists of natural elements that penetrate the patient's skin and then do their task after that.
This herbal oil does not have any ill effects, so one may use it for whichever duration he feels.
No one has to face withdrawal effects due to the same reason, so this herbal joint pain massage oil has become one of the best ayurvedic products to relieve achy joints.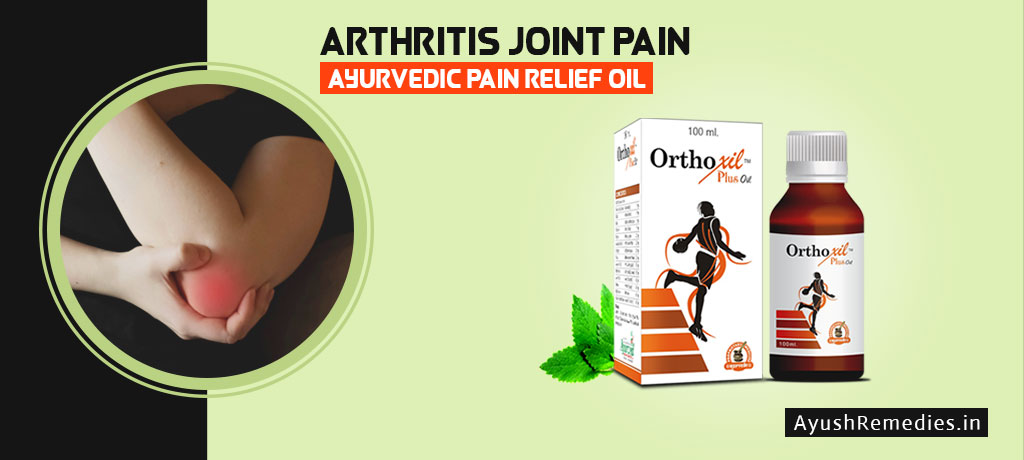 Frequently Asked Questions
Does Orthoxil Plus oil cause any side effects?
No, it doesn't. Since Orthoxil Plus oil consists of all ayurvedic ingredients blended in a sanitary environment, it will never show you any consequences or side effects.
How long do I need to use this ayurvedic massage oil for arthritis, joint pain, and backache?
You must use this ayurvedic massage oil for around 3 or 4 months (12 to 15 weeks) to get good results.
How to use this herbal massage oil for arthritis joint pain and backache?
Use 10 to 15 drops of Orthoxil Plus oil to gently massage the affected area with a light hand in the morning and bedtime.
What is the preferred diet for arthritis joint pain and backache?
You need not follow any definitive dietary regime while following the course.
How can I buy Orthoxil Plus oil in India, and from where?
We have facilities for advance payment and cash on delivery if you want to buy Orthoxil Plus oil in India. Kindly follow this procedure mentioned below:
Select the quantity of your desired package and click on the Add to Cart button.
Fill up all the asked details for billing like your name, email, contact number, and complete postal address.
Choose bank transfer (NEFT), cash on delivery (COD), demand draft (DD), or cheque, and proceed to pay.
Hit click on the PLACE ORDER button.
Please send us an email or SMS with your payment details in a cheque, DD, or bank transfer payment mode. Right after the validation of the full payment, we will dispatch the ordered products to you.
How will my product be received at my house if I order? I want all the details in terms of packaging and delivery. Within how many days will I receive my product?
You will get your product with discreet packaging since we always prioritize our customers' privacy, and you will receive the package generally between three to five working days.
If you like the post, please pin it!
Popular terms: Buy Orthoxil Plus oil in India, How to purchase Orthoxil Plus in India, Orthoxil Plus price in Indian rupees